Fashion
31st January 2007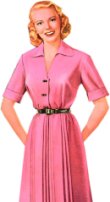 A new fashion section has been added which will contain many images of mens, ladies and childrens fashion clothing through the decades.

1950's ladieswear can be viewed, with more images coming soon.
Posted by Brian at 19:26 0 comments
Lots more content
14th January 2007
There are now 400 old adverts online!

The old adverts on historyworld currently date from March, 1890 to March, 1959.

I have many more to add in the future. Watch this space!

Visit the Advert Museum.
Posted by Brian at 22:24 0 comments