Fulwood Counry Secondary School

Year: 1958 Item #: 1608 Views: 20,199 Comments: 26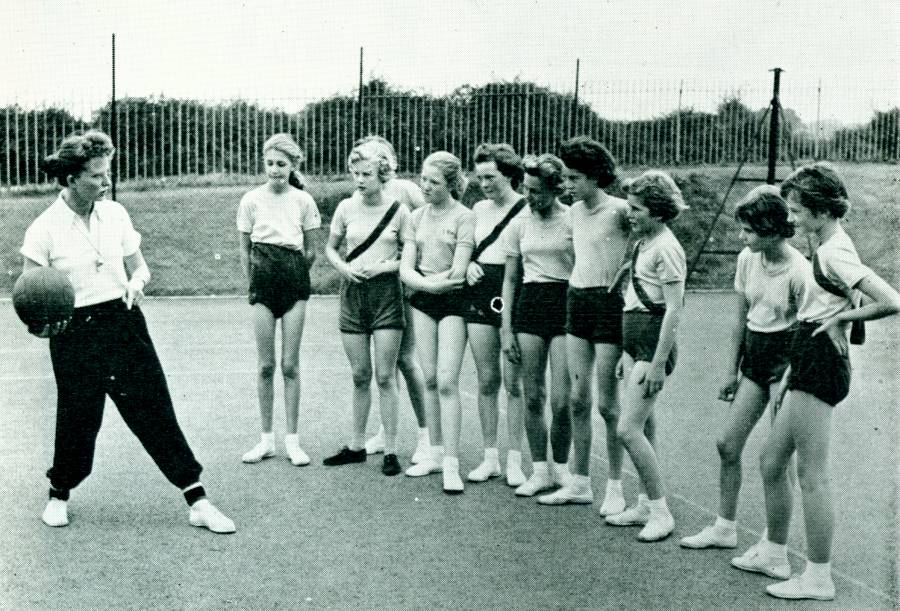 Image scaled down from 900px to 740px wide. Click the image to view the original.
Instruction from the expert, Miss Hilary Peet, physical education mistress, who plays netball for Lancashire and who is also a member of the County swimming team.
Source: Lancashire Life Magazine, November 1958
26 user comment(s) below:-
Comments by Ade C on 26th July 2019
Hi. My secondary modern was a smart blue and yellow reversible rugby jersey blue shorts and yellow socks, but used for every out door sport. Indoor white shoes and tee, bare feet unless it was basketball, then plimsolls allowed.
Comments by Katie G on 11th July 2019
My namesake Katie mentioned in March about wearing gym knickers in 2017, and it was commented that this was a surprise. I left school a little earlier, in 2011, but in year 8 and above we wore gym knickers for indoor PE, which was nearly always gymnastics and dance. In year 7 we had to do PE in just our normal underwear pants!
Comments by James on 5th June 2019
Rob,it was embarrassing being referred to as'the boy who still wears shorts'and even more derogatory comments were made.
As I grew older I did have discussions with my mother about wearing short trousers,but she didn't like her authority undermined and I didn't want to risk any reprisals from further discussions.At fourteen and older I didn't possess any long trousers,so to argue with my mother about wearing short trousers would have been futile.
As I grew older I found that shorts could be worn for leisure without the terrible stigma about wearing them.
Comments by Rob on 4th June 2019
James, I can understand how embarrassing it must have been for you being known by everyone in the school as 'the boy who still wears shorts'. Did you try talking to your parents about it, however unsuccessfully? My mum used to tell me to wear shorts at home in the summer because she said it was healthier and didn't want me going in the garden and wearing the knees out of long trousers. She was probably right and it didn't put me off wearing shorts. Did your parents attitude deter you wearing them now for leisure?
Comments by James on 3rd June 2019
Rob,It was my parents decision to keep me in short trousers until I left school,although I would have preferred to wear long trousers, particularly for school where most boys wore long trousers.I was the only boy in my class wearing short trousers,so I felt embarrassed to be wearing shorts.
I wanted to feel grown up an mature and wearing short trousers inhibit this process.
Comments by Rob on 1st June 2019
James, So you wore short trousers until you were sixteen. Whose decision was that, the school's, your parents, or your choice? I can only remember one boy who wore them until he left and that was because he preferred them. Although I started wearing long trousers in the winter after I was fourteen my parents (mainly my mum), told me the following summer when I was at home to put my khaki shorts on and when I was in the garden,to take my shirt off to get the sun and fresh air to my body.I enjoyed this; after all I was used to wearing nothing more than gym shorts and plimsolls for PE and I have continued to wear shorts as much as possible in the summertime ever since. What about you, James?
Comments by James on 31st May 2019
Rob,I also attended a secondary school from 1965 to 1970 and wore short trousers right through till I left.
Comments by Gender discrimination on 7th April 2019
PHYSICAL EDUCATION KIT

Items to be purchased from school only

GIRLS BOYS
Sky blue polo shirt (collared) Navy blue polo shirt (collared)
School sweatshirt Navy blue reversible sports shirt (long-sleeved)
Sky blue knee-length sports socks Navy blue football socks
Navy blue tracksuit bottoms (Boys do not wear tracksuit bottoms)
Comments by Helen on 14th March 2019
Goodness, Katie, I am surprised by your comment. I thought that the days of gym knickers were consigned to history! Where was your school?
Comments by Katie on 1st March 2019
It's nice to see nothing much has changed since 1958! In my last year of school which was 2017 we were still playing netball on the outside courts wearing a PE kit if gym knickers and tee shirts.
Comments by Anne on 31st January 2019
Stewart, seems you and I went to similar schools we were strictly in bare feet for all PE lessons in or out rain or shine. I even remember cross country in the snow barefoot.
Comments by Stewart on 21st January 2019
Just following on from a few of these comments. I attended an English Grammar School in the late 1960s and early 70s, and there was a strict no footwear rule for most PE, both indoors and out, including cross country.
Comments by
Paul Lewis
on 25th November 2018

I can name at least three of the girls in the picture but not sure if it would be acceptable to do that. I was in the same form as these girls. I seem to remember it was 2B. We did indeed go on cross country runs in winter wearing just shorts and plimsoles (No £200 trainers in those days.) In the gym it was shorts and bare feet. Punishments were delivered with a cane or a plimsole across the backside. However, we were mostly happy kids and there was great camaraderie. There are a few photographs on the internet of the school in the late 50s, not long after it had opened. Mr Dent was the Headmaster and swanned around in a black gown which always seemed to be in tatters through getting snagged on door handles. Happy Days.
Comments by Anne on 5th November 2018
We just got used to being compelled to participate in sports with nothing on our feet and honestly after the initial shock of mud between your toes you got used to it. Plus much easier to clean afterwards and running barefoot meant we weren't carrying heavy waterlogged plimsolls on our feet.
Comments by
Andrea
on 28th October 2018

We always wore footwear (plimsolls or hockey boots) for outside PE or games, but often went barefoot in the gym.
Comments by Anne on 24th October 2018
Andrea, this was in the late 70s and we played in bare feet all year round. We even ran the cross country barefoot.
Comments by
Andrea
on 23rd October 2018

Anne,
What decade was that and was it both summer and winter that you had to go barefoot?
Comments by Anne on 21st October 2018
Nice picture and brings back fond memories of me and my friends playing netball amongst other sports outdoors in navy blue gym knickers and a small white tee shirt. We weren't allowed though to wear footwear and certainly not white plimsolls as we were compelled to play in our bare feet.
Comments by
Andrea
on 28th September 2018

Gym knickers like that were standard when I was at secondary school in the early 1960s. Ours were blue, but I can remember other schools having green and brown.

We were never allowed tracksuit bottoms.
Comments by Rob on 22nd September 2018
Ted, I'm surprised that although there have been over 17,000 views on this site only 6 comments have been made. I was at a boys secondary school from 1955 to 1961. I wore short trousers until early 1958 and for PE, in common with the majority of schools at that time and for decades after, we were only allowed to wear just PE shorts and plimsolls in the gym and outside including cross country running.All the girls in the photo certainly look to be showing a good bit of leg even if the PE mistress is wearing tracksuit bottoms.
Comments by
TED RHODES
on 22nd October 2017

This was female pupils from classes 3a and 3b, a posed photo for a Lancashire Life article on a fabulous school. I was there from 1954 to 1960.
Comments by Mary Dando on 24th May 2017
It is disgusting that boys are not allowed to cover their legs for sport but girls are.

School uniform is compulsory, and we ask for the full co-operation of every parent in ... Items of uniform for boys and girls: ... (Boys do not wear tracksuit bottoms).
Salesian School Uniform Policy.

I am glad PE ended for me in May 1989.
Comments by Bob Robinson on 6th March 2017
I remember this picture appearing in a feature on the school in Lancashire Life. Some of the girls were my classmates. The one nearest the camera eventually became Head Girl in 1963/4.
Comments by
Andrea Smith
on 27th December 2013

Although my own secondary school days started almost a decade and a half later, in the early 1970's, the photo doesn't look too dissimilar to how I remember our first year PE lessons. Possibly my gym knickers weren't quite as large as some of those on the photo, but otherwise one of the tall girls with thin legs and a flat chest could be me!

Picking up on a few of Gillian's comments, our PE teacher didn't stand any messing about in her lessons and enforced the uniform rules strictly (the girl with the black plimsolls would have been in trouble at our school - they had to be white and kept clean). I also remember her having a word with a few of my classmates about asking their mums to buy them bras when she thought they needed one (I avoided that particular indignity as my mum had already had that conversation with me prior to the start of my second year - following a growth spurt over the summer holidays). Showers were compulsory, although we all tried to get away with a quick splash particularly in winter when the changing rooms were cold!

On the whole I rather enjoyed PE and was always quite active out of school too.
Comments by Gillian North on 16th December 2010
Just came across this by accident. I was 14 in 1958, not at this school though. The amazing thing is that I could have been. We looked just like this. We did a lot of PE and then there were games on Wednesday afternoons, and, if you were in a school team, Saturdays as well. Just a thought, but I cannot remember a single overweight girl. We all looked quite fit and slim. How times have changed. Of course I realise that I might be a little selective but I cannot honestly remember weight being an issue for anyone I knew then. Now, of course it is different, sadly.

I think that our PE teacher was pretty hard on us all. She had very high standards. Before we left the changing rooms we had to stand still with our kit bags and be properly dismissed. Any messing about was dealt with harshly, a detention or horrible cross country run after school. Would that happen now?
Everything was quite regimented when you were younger but as girls developed she was very understanding and had some good advice about the 1950's version of sports bras! We were never forced to shower but she would always explain why it was such a good idea, in particular when you got through puberty.

Looking back she obviously cared about what she did. I do have fond memories of those times. We were lucky to have people of that calibre teaching us about sport and life.