Hick Hargreaves & Co. Ltd.
7 Comments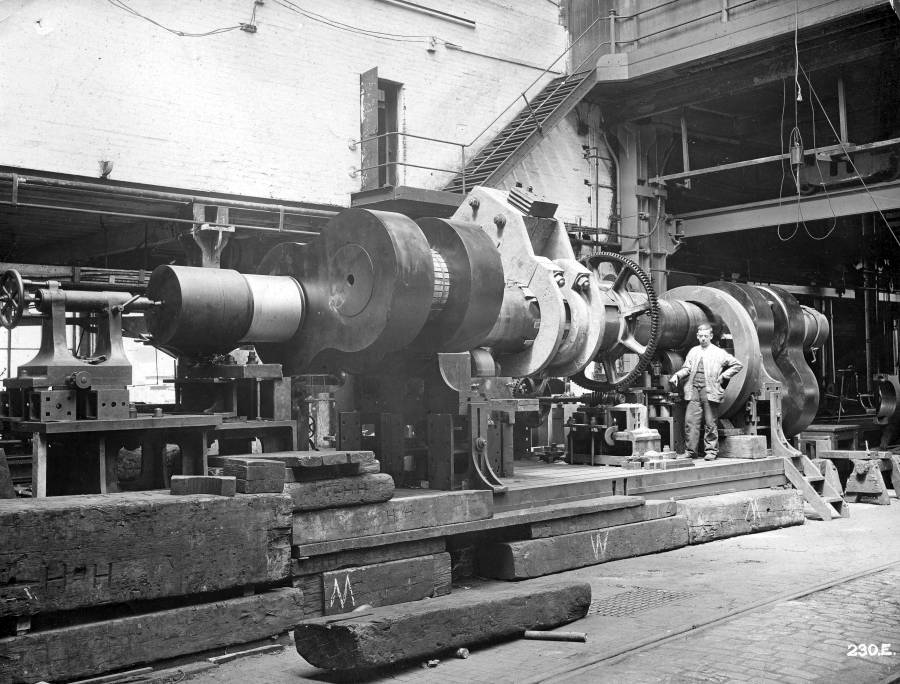 Hick Hargreaves & Co. Ltd.
Year: 1900
Views: 19,485
Item #: 978
Benjamin Hick, mechanical engineer and William Hargreaves firm "Hick, Hargeaves & Co." was based at the Soho Foundry in Bolton, Lancashire.
Source: Personal Collection of David Devine, Wigan
My grandpa Alfred Rooney worked there from early 1900s. He was sent to the US circa 1912 to install machinery, stayed, and went to Dearborn to work for Ford Motor co. His wife followed with baby, my Father, but all had to rtn when grandmas mother became ill. He had to work his passage on the boat and returned to work at HH.
My name is Dorothy Douglas I left a message in 2017 and was kindly sent a reply confirming that engineers were sent to Russia from Hick Hargreaves in Bolton in the 1840/50's.
Sadly We had trouble with our computer and the e-mail was deleted i was so upset. Would the kind gentleman who replied please reply again with that information and I will send information regarding my relatives who went to Russia from Bolton to help with the engineering in the Russian mills.

My e-mail is jnddouglas@blueyonder.co.uk

Many thanks.

Dorothy Douglas.
I am trying to find a connection regarding my ancestor Robert Crompton who lived in Bolton in the 1850/60's. He was an engineer that worked in Bolton in one of the mills. He was asked to go to Russia (near Kiev.) to help with opening/training/ maintaining the engines in one of the cotton mills there. He lived there with his wife and new family, coming back to Bolton with the start of the revolution. He returned to Kiev to help the mill owner and sadly died from illness whilst there. He is in a family vault with a son that also died in Russia.In your archives would you know if engineers from hick Hargreaves were sent to Russia around the 1860's to help in the mills? Also, do you have any history of the name Robert Crompton as an employee at the time? His daughter was my grandfathers mum, she was five when she came back from Russia and could only speak Russian for years. Her brother (Robert Crompton) qualified as a barrister and went to Fiji in the early 1900's setting up the Crompton solicitors which are still working under that name today.

Any help to shed light on this query would be gratefully received.

Many thanks.
Dorothy Douglas.
My Mother worked here in the 50's her name was Joan Sutcliffe or Joan Entwistle as her mother remarried, if there is anyone that remembers her please get in touch as any information on her life would be gratefully received, thanks....
Darren Green
email: trade_instruments@yahoo.co.uk
My father was a nightwatchman in the 60s and I remember we used to go to the christmas parties that were laid on for workers children.
I am extremely glad that the company lasted so long, as I am a distant relative of Benjamin Hick's wife. Her name was Elizabeth Routledge. Elizabeth was the sister of Joshua Routledge, inventor of the Engineers Improved Slide Rule, as well as a steam engine which was patented. Joshua was my maternal great-great-grandfather.
I was wondering if you could supply any more information on John Hick as well as his brother.
Thank you to everyone who contributed to this site and all the amazing information herein.
This is a large crankshaft being machined, a large temporary balance weight has been fitted to even out the turning moment. This appears to be a crank shaft for a two cylinder simple expansion rolling mill engine destined for an iron works. The worm and wheel for turning the shaft while it is being machined can be seen in the centre of the photograph, this is a very large crankshaft and was probably too big to fit on any of the lathes in the works, it appears to be a temporary "lash up", to do the job. to the extreme right of the photograph a screw cutting machine can be seen in the background.

Hick Hargreaves manufactured steam reciprocating engines for all applications, and later steam turbines and diesel engines, the are still in the business of manufacturing vacuum pumps.