Pakamac
Fashion & Clothing - Mens & Ladies

Year: 1953 Item #: 1089 Views: 272,348 Comments: 1,508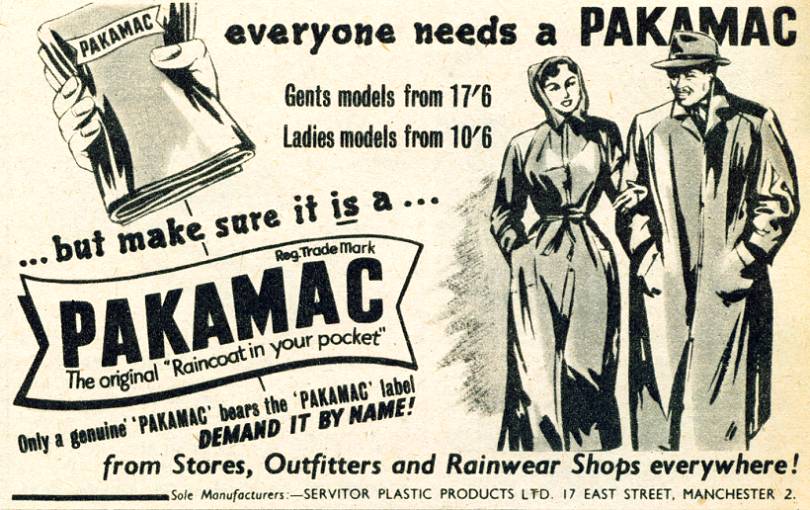 Image scaled down from 810px to 740px wide. Click the image to view the original.
everyone needs a Pakamac. Gents models from 17/6 - Ladies models from 10/6 ...but make sure it is a Pakamac. The original "Raincoat in your pocket"...
1508 user comment(s) below:-
Comments by Alan on 25th September 2012
Hi Susie. I read your comment with interest about being able to manage to buy a plastic Raincoat., But it was a shop going out of business, Well I had a very similar experience around 18 months ago when I read in a local newspaper of a local retail trading warehouse closing down,
I had never really taken much notice of this establishment in the past but I was passing it at the time and they had large cloasing down posters outside. I decided to stop and have a look. There was lots of stuff going really cheap. Most of Which I classed as rubbish, There were boxes of mixed clothing everywhere, When one caught my eye. I bent down to take closer look and could`nt believe it.,
It contained plastic raincoats after taking a closer look there were five ladies and two gents, mixed large and ex large. gents were greyish black whilst the ladies there was
a yellow one one pink two green and a natural one.
I ask the assistant how they were each and she said I could take the whole box for £4. sale done. whilst only two fit
me I considered it a great buy, the label reads RAINSTAR.
Has anyone else heard of that brand?
Comments by Susie on 25th September 2012
It's been over a year since I posted but what a perfect wet year it has been for my Pakamacs. I was even astounded to buy a yellow plastic mac in a high street shop. Sadly it was one going out of business. Best wishes to my mac wearing friends.
Comments by old Friend on 17th September 2012
Susie its good to see on the web again email me.
Comments by
Cole C Porter
on 16th September 2012

It's a triple mac day today in Blackpool.
Wore one mac to MacDonalds and heard an assistant shout for a mac to the kitchen.
On second thoughts I'd have preferred just to wear three macs.
Comments by
Beverley mr
on 26th August 2012

Can't make a link but have you all tried drive-in fashion british pathe not pakamac but nice hat and mackintosh.
Re mails from ladies sadly seems most of them have this odd idea that mackintoshes are for keeping out the rain.
And worst still they would rather get wet than wear one shame. Bev.
Comments by Gareth on 17th August 2012
Where have all the ladies gone is it only men that make a comment come on ladies lets hear from you.
Comments by John on 16th August 2012
Ken, are you from Liverpool luke myself and f so which district and what is your particular interest.
Personally it navy blue nylon pakamac as were the standard school wear or nowdays the only real alternative is the nylon macs at Rainmac which are first class quality
Regards
Comments by Ken on 15th August 2012
Colin it was in Liverpool
Comments by
Alan
on 2nd August 2012

Hi to you all again. This site seems to have gone very quiet. Well I found a new site which I thought some of you might find interesting, : experienceproject.com its a site where you just put in you interests and find other people who are interested in the same. It really is worth taking a look at. Not much happening on the Pakamac side at the moment.Anyone had any recent experiences in there macs?
Regards Alan
Comments by Colin Porter on 19th July 2012
Hello Ken.

I've lived in N.London, Framwellgate Moor (Durham), Carrville (Durham) and now in Blackpool. Can't recall a Garmoyle Road.

Tip for mac mending: a piece of transparent shower curtain to patch over a tear and used with the soft plastic glue, some of which I've found in Maplins electronic store (at Blackpool.)

Recommend joining Rainwear Central, and yahoo groups for Rainwear Bound for anyone who hasn't done so yet.
Comments by Ken on 16th July 2012
Colin I think I know you did you use to come to Garmoyle Rd years ago.
Comments by Lesley on 15th July 2012
Alan, thank you for that tip, I'll be there next week as I have a few repairs to do.
I can never really fathom out the stares. Are they admiring or what. Fortunately at my age I'm better able to ignore them now and will go out even when others are around
Comments by Alan on 14th July 2012
Lesley your feelings when you have a small tear in your plastic macs use to have the same effect on me, But after many atempts to repair torn or split plastic macs I tried every adhesive I could get my hands on but all said the same, Not suitable for soft plastics. But recently I came across some adhesive in Wilkos called soft plastic glue.
So I purchased a tube not having too much confidence in it, But to my suprise its brilliant. If you keep a disused mac to cut for patches you can repair any kind of rip before it goes too far,
Getting back to this recent weather its ideal for plastic mac wearers but like you say people stare.
I tend to go to areas where I know it will be quiet like a walk along the Canal towpath or the many walks around here in the countryside because you rarely meet anyone when its raining, So it gives me chance like you to enjoy the long shiny translucent plastic mac moving with every movement of my body,,I live in hopes that they will return one day. but I doubt it.
Comments by Gareth on 14th July 2012
Anna how are you and your son
Comments by Lesley on 12th July 2012
That's the thing Colin, plastic macs do tear easily, the more so if they have the plastic buttons. Those styles are my favourite. Personally, I think the ones in the eighties were the worst, extremely flimsy. They're much better now but my heart still sinks when I see even the smallest tear.

I must say, I'm loving this unpredictable weather, although my sympathy does go out to those who have been flooded out. I've been out so many times in my plastic macs recently and at least twice this week. The other day was so wet, I spent ages out in my long black plastic mac, buttoned up to the neck - a wonderful feeling. I've only just returned from a four hour walk in a knee length black plastic mac. It was fabulous being out in a plastic mac when it wasn't raining, looking well prepared for a downpour but the smile on my face must have betrayed how good I felt on the inside, just staring at the rippling smooth plastic. What a pity there was nobody else in theirs.

A while ago I proposed that this should be 'Pakamac Week'. Maybe 1012 could be considered the Year of the Pakamac. For me though, I've devoted most of my whole life and love to Pakamacs, they're going to have to bury me in one.
Comments by
Colin
on 10th July 2012

In reply to Alan, I'd say plastic macs went out of favour because they tore and still do tear too easily, and so many people have cars now instead of walking to and from work or a standing at an open bus stop.
Comments by Alan on 1st July 2012
Hi Katie. I was wondering if you eventually got fixed up with a retro raincoat that you wanted, Peter. I was in a shopping centre in town the other lunchtime when I saw exactly the same kind of thing, Youngsters walking down the main street obviousy in there lunchbreak from the colledge with there blazers ver there heads during a heavy shower, I too fail to understand what is or was wrong with the good old British Plastic mac. It was easy to carry and served a valuable purpose when needed, Not to mention the people with similar feelings about them like myself. Regards Alan
Comments by PETER on 11th June 2012
Hi Lesley

I dare say you and others reading this will think I have a strange sense of humour when I say I laughed this morning as I watched people out there in what can only be described as torrential rain

Three schoolgirls on their way to school.....must have left home just in blazers although it was raining ..walking up the road with their blazers on their heads...crazy or what!

And to think the way my mum made sure we wore sensible rainwear when we went to school

Is it that parents just don"t care or let the children do their own thing

Of course is there such a thing as a school mac now

We had regulation gaberdine macs....most were dark blue or black ...a few were green.light blue ...these for winter wear and for the summer showers...the old faithful plastic mac

But grown ups are no better....prefer to get wet rather to wear a sensible mac...not only the younger ones...the older generations seem to have discarded their rainwear

I do recall in some early episodes of "Last of the Summer Wine...Peter Sallis wore a black plastic mac but thinking it might be proving difficult to get plastic macs they kitted him out with a nylon one

I suppose I am a bit like Peter Sallis....irrespective of the weather...on many occasions dry he wears his nylon mac or carries it with him

On Saturday it was dry here but windy....what did I do...wore my brown nylon mac

I dare say some thought...Why a mac?....not raining or none expected

Just look at old Pathe Newsreel in black and white

All ages...young and old in macs

They were good days...not just for mackintoshes but life in general

Peter
Comments by Lesley on 10th June 2012
I can't help but agree with you Peter. All this bad weather and nobody wearing a traditional style of folding mac (apart from me). Like you, I'm rarely without a folded nylon mac and will wear it no matter what the weather, like Peter Sallis in 'Last of the Summer Wine'. When it's wet though, it's usually by black plastic mac. What I don't understand is why people seem to stare, like I've just arrived from Mars!
I think we should introduce an 'International Pakamac Week' when we wear our pakamacs everyday. I'd suggest it is around St Swithin's Day (15th July) to encourage a further 40 days of rain.
Comments by PETER on 31st May 2012
May I ask a question to all mac enthusiasts out there...

Does no one listen to or watch weather forecasts

The reason I ask is that it was broadcast that heavy showers would hit the London area on Wednesday but I sat at my window watching the rain and hail which was like a torrent and saw some very wet individuals out in it

Now for me old habits die hard...as kids(1950s) the plastic mac was always put in the school bag...."Just in case it rained" was Mum"s advisory comment

So irrespective of the weather forecast my lightweight mac is carried and the amount of times I have had the last laugh on those who ended up with a wet experience

Why is it that we have turned into an anti mac society...seems it is the trendy thing to wear as little as possible and get wet

So much am I attracted to mackintoshes I wear them indoors as well as outside

Sadly my ex wife never accepted this innocent passion of mine so the only time I could wear them indoors when she was out....

Now on my own I do my own thing.....Mac wearing indoors as well as outdoors

A well kept secret to be shared with fellow mackintosh enthusiasts
Comments by Gareth on 22nd May 2012
Katie I will look up the sites what model car do you have and please save the last dance for me.
Comments by
Beverley Mr
on 20th May 2012

Nice one in Torquay last week, wet day. Had on my turquiose nylon mackintosh from rainmac had it on all day.
When putting it back on in cafe a lady asked me where i got it and said what a nice colout for holiday.Pleased to tell her.
Comments by
Scotty
on 20th May 2012

Hi Katie, just read your posts and that your into retro clothing and attend events such as Goodwood.

Whilst I don't wear vintage clothing myself, I do have affection for vintage sports cars (and rainwear) and do like the Goodwood event. Especially when everyone makes an effort to dress in vintage attire. I did see a video clip of last year's show and noticed a lack of period plastic rainwear being worn when raining, which was disappointing. I do agree with you that a nice plastic raincoat, matched up with belt and rain scarf or folding rainmate worn over vintage clothing setts the look off so well when raining, it's just very retro chic indeed.

Well to get to the point, I may be able to help. I have a retro ladies Almar plastic raincoat size small 8-10. Semi-transparent white with matching tie belt and headscarf, has side pockets and 4 plastic buttons, complete with box. I think early 60s however looks vintage style. It's been worn a couple of times by my ex-girlfriend, who looked great in it. It can launder easily.

If your interested drop me an e-mail and I can ping some photos to you and we can take it from there.

Happy to help
Scotty
Comments by Katie on 19th May 2012
I go to events mostly in Kent, so Darling Buds, Paddock Wood Hop Farm, Camber - and Goodwood too. We used to go to Biggin Hill every year, but it finished. Anywhere we can display the car really - and dress up of course! Have a look at their websites if you fancy going to one.

Dances, not so many now because they're in the evening and I don't really have anyone to look after my daughter at the mo.

Katie
Comments by Gareth on 18th May 2012
Katie were and when are your dances and events details please.
Comments by Katie on 18th May 2012
Thanks again both for your replies - you've been really helpful. I think I know what you mean by translucent buttons, that seems familiar to me! I will have to ask pvc you like if they have anything like that, I'll see if they have the natural colour material too - I think I'd prefer this because it will go with any outfit. I'll keep you informed how I get on.

I think raincoats can be very stylish Lesley, especially if they have a belt. This is helped by the clothes underneath of course. Anyway, if you collect vintage clothes you don't really want them getting wet. We went to Goodwood a few years back and got soaked. I was wearing a little fur jacket too - not a good look lol.

Take care
Katie
Comments by Lesley on 18th May 2012
Katie, I think both buttons are representative of the era but I particularly remember plastic macs, whatever the colour, with the contrasting white or clear buttons. Yes, the 'natural' colour wasn't exactly white, translucent really, colourless. Quite distinctive really.
It's a pleasure to hear from someone who appreciates the look of a plastic mac then it's teamed with an outfit. For me, they were/are extremely fashionable garments.
Comments by Alan on 17th May 2012
Katie. Natural is vinyl without any specific colouring.
The best way to describe it is Milky but translucent.
You had me thinking for a moment bout the buttons but after
going into deep thought about it , I remembered that on quite a few of the colours the buttons were actualy transparent without colour that seemed to match most colours. Some colours appeared more shiny than others.
I am pleased you were impressed with Pvc-u-like,. On the very early ones I seemed to remember the buttonholes were
stitched. They did vary as time moved on and the material varied. My mobile No is in a previous message here if you
want to text me with any more questions you may have,
Comments by Katie on 17th May 2012
Hi Alan/Lesley, thanks so much for your quick and helpful responses. I've just had a look at the pvc u like site, and yes they do look fab don't they! I love the matching bonnets too. They mention they can do either black or white buttons - are both correct for the period do you know?

Oh, what do you guys mean by 'natural' is that just plain see through white?

Thanks
Katie
Comments by Lesley on 17th May 2012
You described the plastic macs from the 50s exactly as I remember. I particularly remember the natural coloured ones which pvc-u-like emulates so well these days. The only thing I might add would be the optional tie belt and a matching plastic rain head square with a long drape.
Comments by Alan on 16th May 2012
Hi Katie. I think I can help you a little on some of those points you asked about.
Firstly they definately had a collar and not a hood.
Buttons usualy five. definately not poppers don`t think they were around then, Side vent pockets. there were many colours but I think if I remember correctly there seem to
be more Natural coloured ones but yellows blues pinks there seemed a wide selection of colours available.
length was about 150mm/6" below the knee. material was semitransparent but did seem to vary from colour to colour.
thickness was around 200 microns, I would suggest if you wanted a custom made one to contact pvc-u-like.com and they will be able to help you and make one for you too.hope you find my info useful.
regards Alan
Comments by Katie on 16th May 2012
Hiya, I'm hoping someone can please give me some advice on retro raincoats.

I'm into vintage clothing(1950s)and attend various 1950s themed events/dances. I would like to buy a plastic raincoat to wear over my dresses/suits, but having more or less given up on finding an original I have decided to buy a modern reproduction. I know what kind of cut/style I'm looking for, however I'm a bit stuck on some of the finer details. If anyone knows about ladies raincoats from the 1950s, maybe you could please answer the following questions for me.

Did they have a hood or collar, or both?

Did they have buttons or poppers, or both?

Was the plastic thick or thin?

Was the plastic shiny or not shiny?

Were they really see through (clear) or just semi see through?

What were the popular colours?

I'd be grateful if someone could help me out on this one, obviously I want to try and get the look correct.

If any of you happen to have a ladies vintage raincoat from this period(size 10)that you want to sell, I'd be interested.

Thanks guys
Katie
Comments by Lesley on 15th May 2012
It does feel good to be complemented when you're wearing a mac Peter. I definitely had none from my second wife when I wore a plastic or nylon mac, unlike my first (late) wife who, despite not liking them herself, could always see her way to leave a complement. As I did myself about her rubberised mackintoshes when she wore them.
Subsequent partners have been a real breath of fresh air when we have been together, both of us happily wearing plastic macs and enjoying them.
I think an appreciation of pakamacs is something I've found with many older ladies through the conversations I've had over the years with complete strangers, while buying macs (usually nylon).
Comments by PETER on 14th May 2012
I was a regular visitor to Advert Museum.reading of many mackintosh "enthusiasts" recollections of how the attraction to mackintoshes started for them but just recently with committments it has not been possible

So can anyone remember a year like this(2012) when the weather has been sheer heaven for mackintosh wearing..

Since early April there has been few days when my mackintoshes have not had an outing

My trusted Trenchcoat purchased from ebay....labelled Marks and Spencer...and what a joy when two individuals said to me..."You look smart"

I got to thinking I wonder if they were thinking....Wish I had a mac like that but sadly in todays society people seem to worry what others might say if they see them in a sensible mac and to think back to the 1950s-1970s everyone wore a mac regardless of the weather

My other mac is a lightweight nylon one...also purchased from ebay

At this point I have a confession to make....I have an attraction to macs designed for ladies...(the fairer sex) and these I wear indoors

Do I feel it is strange...not one bit

It is harmless fun...giving pleasure

Macs of all descriptions have been an attraction to me for many years....My ex wife made it abundantly clear she didnot understand thus my mac wearing was restricted to outdoors only

sadly my ex wife was not a mac wearing lady even outdoors

Can always dream of her wearing a gorgeous mac

We all dream...it keeps us going
Comments by Gareth on 24th April 2012
Lesley If I had married some one who wore rubber macs I would have stayed with her I love plastic and rubber and PVC macs Women went from rubber to plastic macs anyway.
hey guys

it is so true that macs or trench coats are sooo in!

anyhow, i bought mine recently from a coats by candy

thought i'd share with you the source; http://www.facebook.com/coatsbycandy

hope you can find a mac coat / trench coat for yourself too.

enjoy

tanja
Comments by Lesley on 22nd April 2012
It intrigues me what caused me to have an instant attraction to wearing plastic macs but like it has been said, I just enjoy wearing them. Yes, they have been an incredibly big part of my life for as long as I can remember and continue to be so. They have in fact been involved with some life changing events for me and I wouldn't want it to be any different.
Thinking positively, I would hazard to guess that anyone wearing them now is possibly going to be more of a fan of them than years ago when they were worn casually.
My first wife wasn't a fan but she used to wear rubber lined raincoats when I'd be in one of my many black plastic macs. One difference was that I'd carry a plastic mac where ever I went, whatever the weather. I needed only the flimsiest of excuses to put one on. She knew about my attraction to the garment and couldn't understand it. She certainly couldn't understand why I'd buy more plastic macs when we were shopping, even when I was wearing one that was almost new.
Comments by Alan on 21st April 2012
go onto youtube and type in wet in the ballroom. its and old
Hi-de-hi episode. just few translucent plastic macs to see thats all but i liked it.
Comments by Alan on 18th April 2012
Thanks Taffmac for your response. glad you enjoyed reading about my early experiences regarding Pakamacs. Its not until you get to where we are that you start to reflect on
the past. I think there must be others now who like myself realise what an important part the plastic macs were and still are in my life, I don`t even try these days to understand why its had such a strong influence on my life.
But the feelings are still as strong as the first time I realised how it affected me. you can always leave me your email address if you would like to chat more, or even text it to me on 07789778804 and that goes for any genuine plastic lover who would like to communicate more.
Comments by Taffmac on 15th April 2012
Hello Alan,

What a fantastic experience that must have been in 1967. Thank you very much for sharing that with us. It must have been 1967 or 1968 when my first serious girlfriend and I spent a few days in Torquay and I remember walking back to where we were staying when it started to rain. We passed the Woolworth store and I offered to buy my girlfriend a plastic mac but she declined. What a disappointment ! I really envy your experience and I would love to hear more of your plastic mac experiences.

Many Thanks,
Taffmac
Comments by Gareth on 14th April 2012
Anna get in touch I have a lot to tell you .
Comments by Gareth on 11th April 2012
Anna Its good to hear from you are still wearing your nylon mac.
Comments by Anna on 10th April 2012
Hello gareth yes important well thanks. Thank you for asking
Comments by Gareth on 4th April 2012
Alan If you do write that book I would love to read it you are very lucky your wife understands your love of plastic macs not very many do regards.
Comments by Alan on 3rd April 2012
Hi Gareth. Glad you enjoyed reading my early experiences.
They are memories that I treasure. I think I could write a book on my experiences through life revolved around plastic macs, Which have always played a very important part in my life right from my school days, perhaps we should chat more . thanks for your comments,
Comments by Gareth on 3rd April 2012
Alan well done I really enjoyed reading your comments the best for a long time thank you.
Comments by
Alan
on 30th March 2012

I read with interest all your comments on Butlins and Lesleys comments on 1967 must have been a fantastic year,
Well I can confirm it was,I went to Butlins in Skegness with my girlfriend,She had a cheap plastic mac which she had from her schooldays but torn under one arm,
On the first morning we decided to walk into Skegness and it was a wet drizzly day so my girlfriend donned her mac.
I had an old umbrella of hers , Has we walked towards the Clock tower My umbrella fell to pieces,
The drizzle started to wet my jumper I was wearing. I had planned to try a get a mac without being too obvious about its effects on me, When my G/F suggested I get myseelf a plastic mac, Can`t remember my reply but the excitement was incredible, We continued up the High street, When she suddenly stopped saying look therev in front of us was a shop with a window sticker saying PAKAMAC STOCKISTS. so in we went,I was very excited at this stage but trying to act matter of fact, There was a rack with a few macs on to try on in there for size I soon found my size. Then we bought one which was still packed in its original packing.
My G/F insisted I put it on there and then which of course I was longing for. Well I had only had a cheap one from woolworths before so you can imagine how this genuine Pakamac felt. It was heaven .. My umbrella went in the first litter bin in sight. I actually paid 15/- for it.
Walking back to Butlins was a different world for me.
As we went into the camp there were a couple of Red coats flitting about in plastic macs which at that time I thought were longer and more translucent than these pics here.
We had booked two single chalets because things were different then. but by the time I had got back you can imagine how I felt, So i chalet surficed and it was the first intimate time with my girlfriend so the memories are unforgetable. But it was not until about 3 years into marriage I confessed about the effects plastic had on me but she had wondered why I treasured them so much.
Comments by Gareth on 26th March 2012
Anna were are you are you well
Comments by
Beverley mr
on 21st March 2012

Had outing to nt house n garden on Tues.Dry with sunny spells. Had on my turquiose nylon pu mackintosh whole time.
One of lady attendance in house ask me if it was raining.
When i said no she said o you are just prepared.
Must have been one of these strange people that think nice mackintoshes are for keeping out the rain. Bev.