Pakamac
Fashion & Clothing - Mens & Ladies

Year: 1953 Item #: 1089 Views: 303,369 Comments: 1,548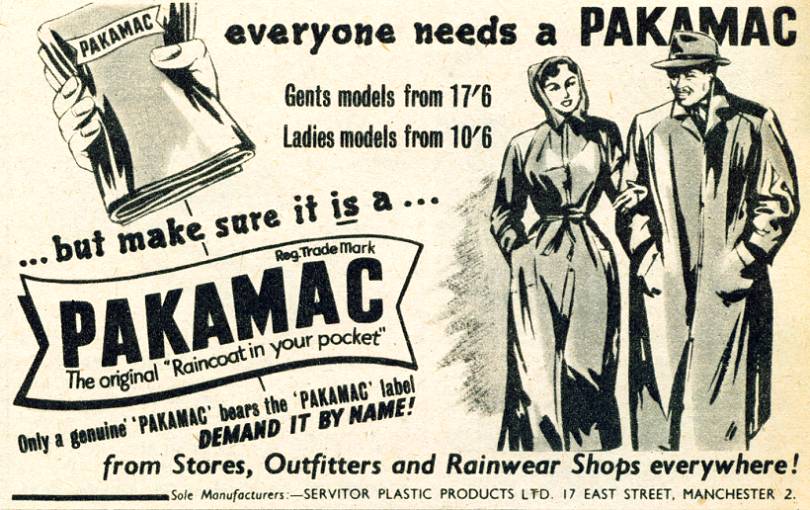 Image scaled down from 810px to 740px wide. Click the image to view the original.
everyone needs a Pakamac. Gents models from 17/6 - Ladies models from 10/6 ...but make sure it is a Pakamac. The original "Raincoat in your pocket"...
1548 user comment(s) below:-
Comments by
BRIAN HUMPHRIES
on 28th February 2011

It is great to hear from you again, Gareth, and thank you for your encouraging remarks. It is a pity that, by and large, women do not share our love of plastic macs. I would love to have macked Isobel up in a see-through mackintosh, but there we are. But on the other hand, I am looking forward to meeting John-Paul properly, and really sharing our love of plastic macs as never before. As I have said before, John-Paul has some really fabulous semi-transparent plastic mackintoshes in the best Pakamac traditions, and it will be a pleasure to wear them with him. In particular, one of his images contains several of his plastic macs, all beautifully rolled up, just waiting to be worn and enjoyed.
I have been corresponding with John-Paul, sharing some of my Pakamac experiences, and I fear I may have been a little too explicit in my descriptions. So if you are reading this, John, please accept my apologies, and do contact me again to reassure me that things are OK. John's see-through macs are simply out of this world, and it is all too easy to get carried away when writing.
Coming back to your remarks, Gareth, yes, I absolutely LOVE, LOVE, LOVE, LOVE plastic macs-indeed, I cannot tell you how much I love plastic macs-in fact I am wearing one at this very moment. Is it enthusiasm, fetishism, or downright perversion? Whatever it is, I am just past caring as I love plastic macs so much. And nylon macs. And rubber ones too, although they are SO damned expensive.
I love plastic macs and there will be many more comments to come. I hope all the rest of you are enjoying your macs too....
Comments by Gareth on 27th February 2011
Brian It is a great pity all the women in the UK do not share your love of wearing plastic macs if you ask a lady to wear lacy underwear or high heels you are Jack the lad ask her to wear a plastic mac at best you will be Kinky at worst a pervert not very fair is it.
Comments by
BRIAN HUMPHRIES
on 25th February 2011

"Plastique Unique" retailed some beautiful black see-through plastic macs, in the best "Pakamac" tradition. They were maanufactured by "Go", and were given the name "Sandy" by Susie and Alan Boult, the proprietors. Although they fastened on the male side, they were suitable for ladies too. Unlike original Pakamacs, which were smooth and sleek, these macs were deliciously rumpled and somewhat oversized, making for a good air circulation inside the macs, and making them very breathable. They roll up beautifully to that irresistible Pakamac size. One lovely feature about these macs was the low-down pockets, which made it easy for the wearer to "hug" the mac around the body. They are beautifully rustly and noisy too. Someone contacted me personally by e-mail(who reads this blog regularly, but is not an active contributor, who has worn them and compares them unfavourably to Pakamacs, but I disagree. They are lovely macs to wear,especially for long walks in showery weather and are yet another variation on the Pakamac theme.
If anyone has worn one of these macs, I would be very interested to know what they thought of them. In the meantime, LOVE your Pakamacs, and savour to the full that ecstatic Pakamac experience...
Comments by Tom on 21st February 2011
Well done John you have frightend Kim away.
Comments by John on 14th February 2011
Kim, I'd love to hear more about your nylon mac for UK holidays....how old where you, did you like wearing it etc etc. I was loved wearing a nylon mac when I was younger but was always torn between the pleasure of wearing it and what others thought.....shame looking back !!!
Comments by Gareth on 13th February 2011
Pamela be my valentine.
Comments by Kim on 12th February 2011
Tom,
I think I've worked that one out thanks! Pity!
Comments by Tom on 12th February 2011
Kim just because someone gives a girls name it does not always follow they are female.
Comments by Kim on 12th February 2011
I found this site, quite by accident.
I was a little surprised, to note that a 'mother' was being "questioned" about her decision on the choice of clothing for her son, accepted,not the usual attire that we see in our communities in the so called modern world, but then, isn't it the case that "anything goes today"?

I too, have a son, be he younger than Anna's and although I have not ever put my son in a nylon mac, I can agree that allowing our kids to "do or wear, as they please" also has ramifications.
I do feel therefore, it is Anna's choice and only time will tell, if her decision was right, or otherwise.

Personally, I was too young when nylon pakamacs were first worn by everyone (mid 60's) and my school didnt have the strict dress code of the once girls high school. However, when in my late teens (unusually)I was brought a nylon navy blue mac for the many UK holidays our family enjoyed thought the 80's.

There doesnt seem to be many girls contributing to this blog!
Shona, Pat? Susan?

Anna, at least, as you say, you do at least wear a mac yourself and as such, not asking anyone do do something your not prepared to do yourself.

Kim
Comments by
Brian Humphries
on 11th February 2011

Anna, I am with you all the way. You have captured the hearts of so many of us by your gentle, but firm, insistence on your son wearing nylon macs. We all hope that he comes to appreciate and love them as we do. Although I regard myself primarily as a plastic mac enthusiast(grey-black, semi-trans, lightweight, rustly), thanks to your inspiration I have been wearing my Stay-Dry navy nylon mackintoshes more and more, both for outdoor convenience and for indoor pleasure and excitement. Stay-Dry also retail black nylon mackintoshes and they are lovely too.
Some time ago, I saw a lovely Asian girl in a navy nylon mac. She was quite tall, wore glasses, and these seemed to enhance the appeal of her mackintosh beautifully. It was raining at the time, and I briefly glimpsed the logo-either Peter Storm or Milletts. The next time I saw her, wearing her mac, the sun was shining and it was breezy. The wind filled her mac and blew it up beautifully. It pulsated in ever-changing patterns and folds, and she looked like a shimmering navy blue jewel as she walked down the road.
Naturally, I wanted one of these macs for myself, but when I investigated these at the normal retail outlets, I simultaneously discovered the Sty-Dry Rainwear website and it was a revelation. From a point of view of both price and convenience, their nylon and plastic macs are true successors to Pakamacs, and I hope as many contributors to this site as possible will give them a try. Their navy nylon macs are BEAUTIFUL BEYOND ALL BELIEF. Light, rustly, breathable-lovely, comfortable and relaxing to wear-rolling up to that lovely, sexy, Pakamac size. All the excitement of plastic macs but without the disadvantage of overheating(always a problem with impermeable vinyl).
I have over 20 of these lovely macs already, and I know I will be buying more-it is so lovely to have so many of them. And, before anyone asks, no, I do not have shares in Stay-Dry. I love nylon and plastic macs so much that I want friends and adherents of this site to enjoy this excitement with me-THE PAKAMAC EXPERIENCE. So thank you again, Anna, with implicit thanks to the unknown Asian girl, for your inspiration.
In the meantime, LOVE YOUR PAKAMACS...REALLY LOVE THEM..
Comments by Gareth on 11th February 2011
Anna you said in your comments before you had no time for your sons protestations that what is the problem he does not want to wear it leave him alone and make me wear mine I have not got a stock Fetish but then why are we all so keen on pac a macs
Comments by Norman on 11th February 2011
Anna I think in some ways you are correct.
The big thing here is that he is your Son, so if you think it is sensible for him to wear a Pakamac, or a trench coat, or even a garbage bag to keep the rain off, I think that is entirely up to you. Your his Mother and you raise him the way you see fit.
This is not child abuse guy's, Anna is just doing what she thinks is correct....If it was up to me, I wouldn't care what my Kid wore, but I respect Annas right to raise her child anyway she likes.
I wore socks every day to school, but I don't have a sock fetish. So why would her boy have a raincoat fetish ??? Doesn't make sense that because he has to wear a Pakamac then that is the road to disaster. Maybe Anna is correct and it will put some sensible values into him that will help him as he get's older.
And on the flip side, if he feels embarised by being forced to do things he doesn't like, then he will be 18 in no time and able to do what the hell he want's anyway.
Hang in there Anna.
Comments by Anna on 10th February 2011
Tom - I'm afraid I don't agree at all. Children are conditioned to be allowed to wear what they want, and it's pure nonsense. Whyever shouldnt my son wear a pakamac? And yes, I wear one too, so I'm not asking him to wear anything I'd refuse to wear myself
Comments by Norman on 8th February 2011
Well John if you were wearing a Nylon Raincoat in a suit or walking your dog I am sure you would get a smile from me as well (O:
Comments by John on 7th February 2011
Something else to be considered in that as I often wear a Rainmac navy blue nylon mac either over casual clothes when walking the dog or over a suit for work, I regularily get a smile from passing women which I can't put my finger on why but I would it's probably be on a frequency of every other time I wear it .....any thoughts. Is it just because then think I'm being sensible, not worried about what I wear or like macs ?
Comments by Tom on 6th February 2011
Anna do you wear macs yourself you seem obsessed with your son wearing a nylon mac give him a break or he could get a fetish for them Gareth was right not something you would wish on anyone.
Comments by Anna on 5th February 2011
Thank you John, you speak a great deal of sense. Its a shame more mothers didnt bring back the pakamac, it would save lots of anguish while trying to compete with the Joneses. My son looks very smart in his, and with it being below knee length affords him protection from inclement weather
Comments by Norman on 5th February 2011
I wear a full length nylon raincoat when the weather is bad.
I live on a yacht and have to get to shore in some pretty wild weather....Nobody and I mean Nobody would ever think it was sissy looking to wear a mac. Infact one of the guys who works for me has asked if I can get him one.
They can be very smart and go well with anything I need to wear (Including a suit and tie).
I really couldn't give a damn if people didn't like me wearing a raincoat or not. I guess it all comes down to the fact I think they are practical, smart and not to mention a little on the sexy side.
So not much point talking to me about mac's being nerdy or making a person look like a Jessy....I think they look great and I always have.
Comments by John on 4th February 2011
I agree, there is no harm in wearing a traditional nylon mac> I may have objected a bit when I was younger but looking back it never did me any harm. The other thing about a nylon mac as opposed to plastic, it can be worn as an every day coat as it looks smart which is something sadly lost with most of the children of today
Comments by Anna on 4th February 2011
For me its the most practical coat a child can wear to keep them dry. Nothing wrong with traditional clothing, in my opinion
Comments by Gareth on 3rd February 2011
Anna why do you want your son dressed in a nylon mac it has been more of a curse than a blessing for me there has been inmense pleasure but most has been frustrasion and made to feel foolish not what I would wish on anyone.
Comments by Norman on 2nd February 2011
LOL I bet they would Gareth (O:
Comments by Gareth on 1st February 2011
Norman It is what other people think George Clooney or Brad Pitt would not be so popular with women If the were wearing Pac a Macs.
Comments by Norman on 30th January 2011
Thank you Anna I will think about posting some stories.
Now Gareth if you think wearing a plastic or nylon mac makes you look like a Jessie that is a shame.......It isn't hard to wear a Mac and still keep your street cred.
Comments by Gareth on 30th January 2011
People who see men wearing plastic macs think they are a bit of a Jesse as much as I love mine I only wear it away from friends or family John Wayne did not wear a plastic mac I love to see women wearing them but sadly that is very rare these days are there any pac a mac lovers in the WI Pamela?.
Comments by Anna on 29th January 2011
Norman, my son got his first nylon pakamac when he was 6 and still wears one today at 16, a shame more mothers didnt do the same if you ask me. Would love to hear more about your recollections.
Comments by Norman on 29th January 2011
Not really sure anybody on this site apart from you would be interested in what I have to say really.
Your the first response back to anything I have written.
The one thing I will say is that apart from the rainwear cafe I haven't seen much on line that connects with our passion for rainwear. Mostly it is Women that seem to be into Pakamacs and the like in a big way. Not so much the guys.....I can remember my first experience with a Raincoat (Pakamac I would say) from before I went to school. I must have been around 4 Years old....The whole thing built up from there.
The thing is now I realize their are more people out there with the same thoughts and desires as myself, so that is a good thing not to feel I am the only one.
Comments by John on 28th January 2011
Well Norman , it would be really nice to hear some of them - I'm sure that those memories will resonate with lots of us Pakamac wearers. And I so agree with you - its GREAT to be in touch - and communicate, with like-minded people. So get typing Norman and lets all enjoy those memories!.
Comments by Norman on 27th January 2011
It is nice to be in communication with like minded people and reading your post bought me back to my own childhood experiences in the 60's and 70's.
Comments by John-Paul on 26th January 2011
Well Norman.... I've been called many things in my life time... but Pakamac Hero has got to be the BEST!!. Thank you
Comments by
Brian Humphries
on 25th January 2011

I know John-Paul very well and it is a wonderful pleasure and privilege to have him as a contributor to this site. John-Paul is a Pakamac expert, authority and connoisseur, and what he doesn't know about Pakamacs either does not exist or isn't worth knowing.
I had the good fortune to buy an original male grey semi-transparent plastic Pakamac from John-Paul some time ago, and what a beautiful plastic mac it is. Things developed from there. I have some wonderful images of John-Paul wearing some of his beautiful plastic mackintoshes, and they are thrilling beyond all description. Like Pamela and Susie, we are planning to meet regularly to enjoy our plastic macs together, and we can hardly wait for the spring and summer and the lovely showery Pakamac weather-and we will be keeping our plastic macs on in between the showers!
I know John-Paul will become a regular contributor to this site, and will provide some interesting waterproof anecdotes. Perhaps we will acquire the original Pakamac patent and persuade a manufacturer to start fashioning them again. Food for thought!!
In the meantime, LOVE YOUR PAKAMACS-REALLY LOVE THEM!!!
Comments by Norman on 25th January 2011
Very interested to hear your comments John-Paul. I can relate to some of the stories you told about growing up in England....Your my new pakamac hero (O:
Comments by John-Paul on 23rd January 2011
It seems a chunk of my comments got left off at the begining. I wrote that it was interesting the way that "Pakamac" became/has become a generic term for a great variety of rainwear - rather like "hoover" has.
Arriving in the U.K. in the early 60's I was struck by 1. how cold it was. and 2 How wet it was... closely followed by how near obsessed the English were to "wrap up/stay dry".
My two brothers and I were soon put under the Iron Fist of Mrs Hillier as our "Nanny" and it was she who decided that her shiverring brood should be immidiatly clad in Plastic.
My eldest brother was awarded the pleasure of a "Genuine Pakamac" whilst we two younger siblings got - as I subsequently wrote, "Made in Britian" macs. It was fascinating the way it was almost considered dangerous for us boys to venture out without our "Pakamacs" by Mrs Hillier. Thus I have memories of Sunday trips to the Science Museum armed with the enevitable rolled up plastic mac, the horror of a greasproof wrapped egg sandwiches ( "No point waisting money on stuff you dont know where its been made" and an orange.
One very memorable trip I remember very well was a car journey down to the Isle of White where a collegue of my father had rented a boat.We all set off in the car and once on the Ferry the need for us all to put on our Plastic macs became evident as it chucked it down... thus we arrived, Father, Mother, David, Paul and I all in our gleaming macs to be greeted by the welcome "Hey, Here are the Pakamacs of Putney" - much to all our mutual amusement. But we had become, indeed a Pakamac familly... a fact I deeply loved!.
Comments by John-Paul on 22nd January 2011
Of course the differences between a "Genuine Pakamac" and other makes may have seen of little consequence to the un-initiated... but to the devotee, which I had become, they were grave and of considerable consequence. The black plastic macs Mrs Hillier bought us were "Made in Britian" brand and perfectly made, smooth black plastic, welded seams, patch pockets - but the "social" differences were immense. It may seem bizarre now to suggest that "Pakamacs" were "middle class" whereas our "Made in Britian" macs were decidedly "Working Class".The Woolworths macs were readily available at every Woolworths throughout the land... and the rails of gleaming macs became a real point of focus. In the Putney Woolwoths they were displayed to the right of the main door .... later moved to centre right back - you see, it was with that kind of obsessive interest they had become. In the Richmond Woolworths, centre right display..... it bacame a point of honour almost to locate the rails in any given Woolworths!.Even when going on trips around the U.K. I soon spotted the stall at the back on the right of Chester Indoor Market, in Blackpool two newsagents that held huge stocks of macs, in Nottingham the Ex-Army stores that had macs hanging on the walls.... it was, I realised becoming a true obsession. Meanwhile "Genuine Pakamacs", all tightly folded up in their plastic bags hung on a display in Dunns - and you couldnt really drift into Dunns ( as a 12 yr.old to "just look at the Pakamacs"). Of course who owned what and wore what was of great interest to me. Mr Scott our next door neighbour had a magnificent "Genuine Plastic Pakamac" a wonderful long black gleaming mac, deep collar, those distinctive "pear" shaped pockets delineated by the welded line.My eldest brothers "Pakamac" was slightly greyer and seemed less thick than Mr Scotts glorious mac.Paul and I had our Woolworths "Made in Britian" macs which somehow - and quite inexplicably seemed "embarrasing" and when the instruction when ever going out became "You boys take your Pakamacs - you never know" it was with with a strange mixture of guilt and mild shame that we stuffed our macs into our blazer pockets.Nevertheless, such is the Power of Plastic Raincoats ( to those who fall under their spell) that I only joined the Scouts because I read my friends list of Articles required for Camp... and spotted "pakamac or similar....
I started going to Fulham Football games ( only on wet Saturdays) because I knew I would be standing with a huge group of black plastic clad men.
I deliberatly made friends with Derek Holt because both he and his father seemed to have a very impressive array of plastic rainwear and I was determined to pull on Dereks black plastic over-trousers to complete my plastic get-up. ( I did).
At School ( a very large and new Comprehensive in Putney) the range of raincoats worn by us boys was of great interest.Was it really my imagination that the more academic boys wore "Pakamacs" whilst us dunder-heads had Woolworths/ British Home Stores/ Littlewoods "own-brand" plastic macs rolled up in our satchels ?.How very bizarre that I became so obsessed and so aware of stylistic differences.... I could spot a "Pakamac" instantly, I could(almost) even tell you its approx. year of manufacture - the grades of plastic changed...
The whole image of "Pakamac" was certainly geared towards the mature urban male - the adverts showing a flat capped chap wondering at the "strength of those seams" as his Mrs hopped over a gate. And thinking of those adverts, do any of you remember the little cartoon man that always appeared at the bottom of the ads - Pakamac Pete, his hand firmly stuffed into his mac pocket. I seem to recall you could send for brochures of the "New Ranges and Styles" - did any of you - and do any of you still have one?. The decline in the popularity of Plastic Macs seems partly to do with the lack of breathability.... you could get mighty hot and sweaty wearing your mac, but also by association. There developed an image of "a dirty old man" - the flasher, the fumbler... and "he" always wore a plastic mac. As a youth we were told there were "rude men" lurking on Wimbledon Common - and you'd know them because they always wore plastic macs. Parrot-Face Davies a"commedian" always wore one and he was essentially a fool - a man to be laughed at, thus, plastic mac = laughable idiot. Dudley Moore always wore a plastic mac for his Pete & Dud sketches and again the association was plastic mac = simple, to be laughed at.There is of course a Pete & Dud sketch which starts with Dud pulling on a line of plastic macs, pegged out to dry, he then proceeds to iron a plastic mac....
Plastic macs had become "jokes"/ something laughable, something to be mocked.
When strangeness or oddity needed to be shown a black plastic mac indicated that the wearer was a bit odd - Sting in "Brimstone & Treacle", Huwel Bennet in "Twisted Nerve" who puts on his plastic mac to murder his father!!.A film with a young Anthony Scherr playing a highly eccentric mathmatical genuis indicates his eccentricity by donning him a plastic mac.Early episodes of "Z Cars had "Fancy Smith (a young Brian Blessed) always shown off duty wearing a plastic mac - indicating his "simple" working class/lack of sophistication...
Its a fascinating History. ( well it is to me!!)hopefully I may have sparked off some interest and comments?
Comments by John-Paul on 21st January 2011
What a very exciting prospect a PAKAMAC SOCIETY is !. Somewhere a group of like minded lovers of all things Pakamac could share experiences, anecdotes, perhaps pictures. We could even form a nation wide hunt foir all those Pakamacs that must still be SOMEWHERE !!. If you think of the hundreds of thousands that were manufactured in the late 50's till early 70's there just HAS to be poor neglected, forgotten about Pakamacs that need liberating and loved!!. What can we do to actuslly achieve the noble aim of a Pakamac Society ? How do we go about it ?
Comments by Gareth on 21st December 2010
Thank you very much Pamela.
Comments by Shona on 19th December 2010
I'd just like to thank everyone for the lovely comments and to wish you all (including the 'approver' of the messages) the best seasonal greetings. What a year it's been since I discovered this Pakamac page. For it to end with such an incredible arctic blast. The temperature of which shouts loud for me to wear a nylon Rainstar pakamac over a winter coat. I'm not yet an old lady but the look is so evocative of grannies in 1960s and 70s.
I hope everyone is wearing their Pakamacs.
Comments by
Scotty
on 17th December 2010

Merry Christmas to you all who have posted, hope you have a great time over the holidays
Comments by
BRIAN HUMPHRIES
on 16th December 2010

I echo Gareth's wishes to all our waterproof enthusiasts for a Happy Christmas-and a hopefully showery New Year! Many apologies for not contributing to the site for some time, but I have been very busy. Many thanks for the several individual e-mails, including your's, Gareth. I will try and get round to dealing with them. Particularly warm wishes to our female Pakamac enthusiasts, especially Shona, possibly my favourite contributor of all.
Very best wishes to all,
Brian
Comments by Gareth on 15th December 2010
Merry Chritmas Pamela and all other Pac a Mac fans.
Comments by BJ on 9th November 2010
Kareliz, good to catch up again.

Of course I absolutely agree about the Glad wrap ponchos, John McEnroe would call them 'the pits', they are useless and ugly. What stood oou about your last post was that you try to match your mac with your umbrella. As I said on this thread a while ago, the girls at school used to have blue raincoats and most had blue brollies and they looked marvellous. I can only imagine how you would look with bright red raincoat and umbrella - especially if you were wearing your rainhat as well. Do you go to the AFL football much? What team do you followe? You might have already told me on another form but I can't remember.
Comments by kareliz on 8th November 2010
Hi Pam,

No I like nothing better than going for a walk in the rain and hearing it on my umbrella. It's not something I'm able to do much these days, for a start Australia has been in drought for the last few years, but I take the chance when it comes. When I was studying full time I would often walk around the campus in the rain, it was a great way of clearing my mind (and my head from that overheated second-hand library air) and relaxing and refreshing myself. I also love the intimacy and romance of sharing a brolly. If I do have a pet hate regarding umbrellas, it's the current seemingly legal requirement that they have to be black and anal and boring and depressing and who cares if they cost $2 and look like a piece of crap after a hundred yards - they comply with the dress code!

But I suppose all this talk of umbrellas is for another forum. Lately I have rediscovered the nylon mac, as I said, and I have four or five of them and wear them at concerts and sports events and in crowds generally. I was watching the Melbourne Cup on television last week and it was just ridiculous that all these women would spend more on their 'outfit' for the day than I paid for my car, maybe my last two cars, only for the weather to turn nasty and the only protective clothing they had was an oversized piece of sandwich cling-wrap with a hood. It looked absolutely ludicrous and wouldn't have survived more than five minutes of a steady downpour. I suppose it told the world that not only did they have this fabulous outfit and you could still all see it and be impressed, but they were so armpit-deep in money that it didn't really matter if the rain ruined it. If I had turned up amongst them wearing my red nylon mac and a rain hat, I'd have been laughed off the track. All so arbitrary!
Comments by Pamela Stoneton on 7th November 2010
You have hit on a pet hate of mine Kareliz, i.e. umbrellas. I hate them especially when I'm shopping. I really can't understand how they have come to replace the pakamac when the latter is so much more functional, attractive and leaves hands free to do what they better used for e.g. searching through rails of items rather than holding the handle of the accursed folded brolly!
Comments by kareliz on 5th November 2010
As a schoolgirl in Australia the 60s and 70s I wore 'pakamacs' regularly, first red plastic then yellow, then at high school we were meant to wear royal blue outerwear but it wasn't rigidly enforced, mainly we used umbrellas walking to and from school. Nylon ws much more popular than plastic, it was 'cooler' in both senses of the word. These raincoats didn't often have hoods so especially at primary school most of us had those plastic rain hats that folded into pleats so you could keep them in your coat pocket. These macs and rain hats did a great job of keeping you dry - even some girls who rode their bike three or four miles every day. I lived close enough to school to walk or ride depending on how the weather was looking.

I've started buying and wearing nylon macs and rain bonnets again recently since more and more places such as sports stadiums are making nannyish rules about umbrellas, and at other places like outdoor concerts the expectation is you don't put up the brolly (same story of a small precentage of idiots ruining it for the rest of us). I have a dark blue one (just like school), a couple of vivid red ones to match my umbrella, including a 'genuine brand Pakamac, made in England' which I picked up for a whole 50 cents at an opp shop a few months ago, with a bonus accordion rainhat completely unused in the pocket, and a turquoise blue one (I couldn't resist the color). I love the way colored nylon looks so bright when it's wet, and this sort of rain wear looks so much better and keeps you dry so much better than those awful thin plastic ponchos that 'they' say are the only acceptable alternative when an umbrella is seen as inappropriate.
Comments by Gareth on 25th October 2010
On the Welsh speaking TV a comedian sometimes comes on wearing a plastic mac and just tells corny jokes .
Comments by Fiona on 23rd October 2010
Just like some others here I also love to sleep in my plastic macs. I really miss Pakamacs.
Comments by
Andrew
on 19th October 2010

I remember back in the early 50's in England when I was about ten years old. I'd been playing at a friend's house, and when it was time for me to go home it was pouring with rain. So my friend's mother made me wear his sister's plastic mac home. It was translucent, with a hood and a tie belt, and she insisted on putting up the hood and tying it on firmly under my chin with strict instructions that I wasn't to undo it until I got home. I then had to walk through the streets wearing what was obviously a girl's raincoat. Boy was I embarassed!
Comments by Gareth on 1st October 2010
I have read the web page it is great but are you real Pamela I have never met a lady who really likes plastic macs not in North Wales the classic is do you want me or my mac or they are sweaty or cling I am now really confused after reading your comments I hope you will get in touch I would love to corrospond or talk to you just try and understand it all best wishes Gareth.
Comments by
Colin Porter
on 30th September 2010

Since there seems to be a desire to set up a Pakamac society I suggest the easiest way would be to start one in Yahoo groups. I set up a group for myself there and found it a free, simple process where it's possiblee to submit pictures and send comments to other group members.
Comments by Anna on 26th September 2010
I've just returned from a shopping trip with my 16yo son, and as a result of him previously losing his navy blue nylon pakamac, I managed to find a new one for him in the local outfitter, much to his dismay.

It's of a slighlty longer length than his last one, about 3 or 4 inches below the knee, and buttons to the neck, in the traditional style. I also took the opportunity to buy a new school raincoat, double breasted with a belt.

I have no time whatsover with his protestations that he should be allowed to wear a football jacket of some description, but I dont allow that, he must wear his traditional mackintoshes for another couple of years.

I would be delighted to answer any questions, and in particular correspond with other like minded mothers.

Patricia