English History Terms
30th December 2006
A new page has been added to the Reference Library which should be of interest to anyone who likes local history.

The Terms Employed in English History is an alphabetical list split over 3 pages.

I learned a few things by typing this in including how the title of 'Baronet' came about:

Baronet is a title first conferred by James I., who made it a mere matter of sale and purchase. Any one who paid into the Treasury a sum sufficient to support for three years one hundred soldiers of the army in Ulster was created a baronet. The title is hereditary, but does not confer upon its possessor any special privileges. It need hardly be said that baronetcies are no longer offered for sale.
Posted by Brian at 22:13 0 comments
New look
28th December 2006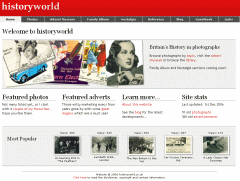 Welcome to a new look historyworld.

It has been re-designed as a very clean, clutter free website that is also very simple to use and navigate.

Hope you like it.

If you have any ideas for the new Nostalgia section, please let me know by leaving a comment, thank you.
Posted by Brian at 18:52 0 comments