Unknown Photos
16th June 2011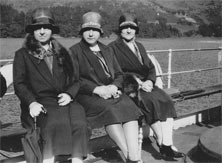 I found an old photo album a few years ago which contained quite a few family photos.

It would be great if I could return it to a family member. If by chance you recognise anyone please get in touch.

Notes in the album include "Willie, Nellie and Me", "Fountain in Williamson Park, Lancaster" and "Arthur".

View the Unknown family photos.
Posted by Brian at 22:32 0 comments
Re-launch
15th June 2011
Seems like an age since I wrote anything (because it has been!) but I won't leave it as long next time.

Decided to re-launch the site with new, cleaner code so the pages should now load quicker.

Hope to find more time to add more, particularly to the Nostalgia and Attic sections. If you have any suggestions for new content please contact me or leave a comment, thanks.
Posted by Brian at 21:40 1 comment