A Lady Cleans Her Doorstep
8 Comments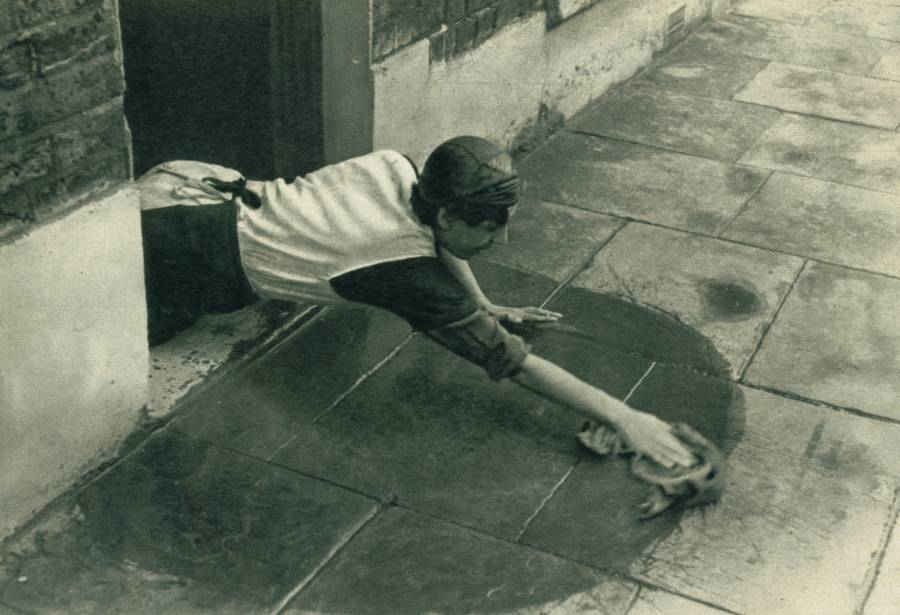 A Lady Cleans Her Doorstep
Year: 1938
Views: 24,018
Item #: 145
In Wake Street, just off Lambeth Walk. Some of the householders wash not only their front doorsteps, but a large slice of the pavement, too. It's a regular North Country custom, but among London smoke and dirt it seems a strangely noble act.
Taken from 'Life in the Lambeth Walk' Article.
Source: Picture Post. December 31, 1938
Comment by: Amanda on 27th August 2021 at 15:18
This was done years ago in Wales too .
Comment by: Michael on 16th September 2020 at 19:31
My family once lived in a street of terraced houses in the north of England. and my mother was very houseproud. She regularly mopped and 'donkey stoned' the front doorstep. This was actually a soap-bar sized slab of limestone, and its main purpose was to leave a neat white line on the front edge of the step.

The houses down both sides of the street may have looked modest on the outside, but they were like "little palaces" on the inside. It was quite a sight to look down the street, and see all the front doorsteps with their white edges; each one indicating that the occupants cared very much about 'keeping up appearances".
My father lived in Wake Street... born 1926 until he went to war in 1942/43. Alf Swetman was his name...
I THINK THIS PHOTO COULD BE MY MOTHER Florence Marjorie PEASE (MARGI) she lived with her family at 44 Wake street,I remember the house was on the left hand side, her parents were Bert PEASE AND Florence (fLO) pEASE,my mother would have been 17 years old in this photo, if anyone can give me anymore information I would be very grateful.thankyou.
My mother and grandmothers used to do this. One gran had red polished front step, the other and my mum stoned the step. Either way blooming hard work.
Comment by: Tom Walsh on 28th February 2012 at 00:52
Ladies would first sweep the front of their house before mopping the step , and an area of pavement ,usually an oblong, but in this case a semi circular immediately outside their front door . Then polish a square of brick work at each side of the window. The donkey stone refereed to in early comments, was given by the rag and bone man, hence the name, when applied to the step it had a yellow hue, rubbing stones(bought from the shop) was much whiter. There was even snobbery in step cleaning !.
I certainly remember this activity. Can't sea the donkey stone
though. Hands up all those who remember donkey stone!
Comment by: Paula Menzies on 14th October 2009 at 00:01
What a fantastic picture.