Lambeth Walk, London
Streets, Buildings etc > Streets
16 Comments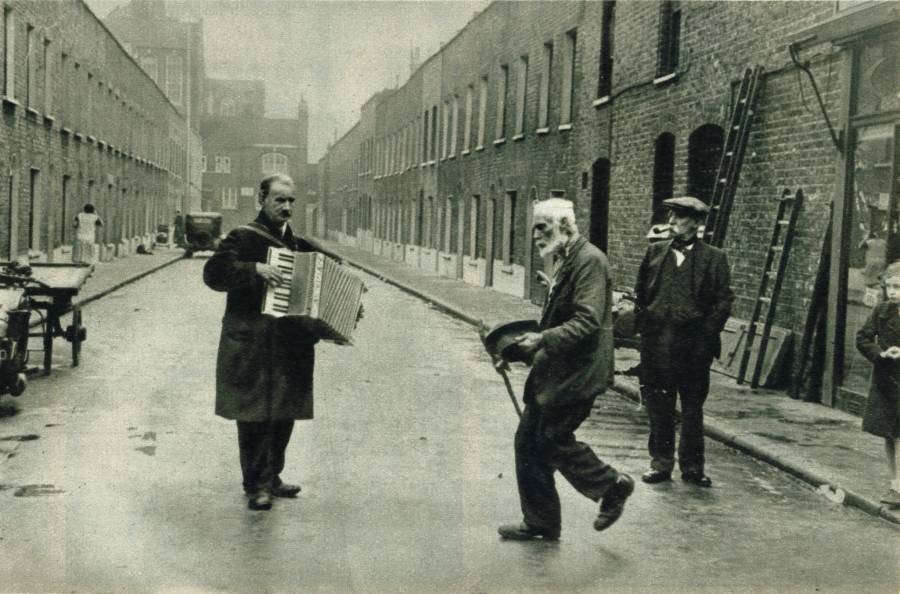 Lambeth Walk, London
Year: 1938
Views: 44,505
Item #: 148
The old man, seen Lambeth Walking at the top of one of the side-streets is a Lambeth institution. He is popular in the Walk, and there are usually a few to give him pennies.
Taken from 'Life in the Lambeth Walk' Article.
Source: Picture Post. December 31, 1938
Looking for the Bolton family who lived at 17 Wake St,Lambeth Walk in the 1930's. 5 children. 4 sons, 1 daughter, Doreen, who was evacuated and adopted in Cornwall by Lewis and Brenda Poore in 1945.
Doreen is 86 and in a care home. She has one daughter, Tessa Skola, who is now trying to trace Doreen's brothers and their families. Mum's birth mother, Ellen Bolton, later had an address in Montacute,Somerset.
A long shot but hopeful.Thank you.
Comment by: Dave Lock on 7th June 2019 at 14:10
Family home No.3 Clayton Buildings until early 1950's, apart from the two evacuations my two Brothers and I endured during 'The Blitz'.
We were on the debris of the smouldering Lollard St School shortly after the Sunday incendiary raid [we having cheered when Dad woke us to say 'no school tomorrow, its gone']. Big Brother Doug spotted something shiny on the burning pile and pulled it down with a long stick, it was the brass school bell-too hot to handle and, of course, there was no handle left.
The bell stayed almost forgotten within the family for 75 years but when my Sister Valerie mention the new Vivian Baylis School erected behind The Oval in Kenninton Lane I
decided this was the 'Pheonix' of Lollard Street, the
School I first attended at 3 years old in 1939. I called their 'Principal', told him the story and presented the old 'ringer' to them. At last they had something tangible to put in their empty display cabinet! [And it didn't 'arf CLANG when rang]!.As my dear Aunt Mary once said at No. 3 'It's a bleeding invasion bell'.I had to warn them! DL.
My dad lived at 21 Distin street and my mum Ethelred street and her mum eve bishop lived at 36 goda street.
One of these gentlemen, I think the one watching, was a relation of my father. I think the man's name could be Arthur..
I am trying to find a Bill White that l believe lived in Wake St. He was my mum's half brother.

My maiden name was Peckham. All my dad's family lived off the awalk.

If anybody knew the White family, please let me know by email.

Bill a White was married to Rose White.
My grandparents lived at 31 Wake street(Hunter Jackson Beardwell)and I was born in Silvertown on Oriental Road. Its such a nice thing to be able to see streets that no longer exist but are still remembered with affection.
Comment by: Jane on 6th April 2015 at 22:08
My second cousin twice removed, Stephen & Elizabeth Ayliffe lived at no 34 Wake Street between 1914 till his death in 1955
MY MOTHER Florence Marjorie Pease known as Margi,lived at 44 WAKE Street, her parents were Bert Pease and Flo Pease,and she was bornin 1921 , SHE WENT TO lollard street school, and had two brothers Bert and Arthur,does anyone remember them .
Lovely to see a picture of Lollard Street school. My mother, who lived in Lollard Street, went to this school around 1917 and I've been looking for pictures of the school and Clayton buildings were she lived. Interesting picture with lots of detail. She was Mary Bridges and had sisters, Alice, Charlotte, Ivy and a brother Alec.
my Stepfather Edward James Wells grew up in Wake Street he had (Ithink) 8 brothers and sisters. his parents (my grandparents) moved to a block of flats next to the railway shunting yards at Wandsworth Road. I recall my Stepdad having a sister Annie also known as Nan who had a son Rita and granddaughter Pamela who currently lives in USA. there was also a sister Shirley, brothers Walter (Wally) and Lou who also lived a few doors from my Grandparents in Wandswoth. They had several children. Teddy, as my stepdad was known by his family, was a great stepfather and father to myself and 2 brothers (Austin and David and a sister Heather. He also had a daughter (my lovely half sister Anne). I believe he married previously just as he left to go to war and was badly let down by his then wife who I believe ran off with a Yank whilst he was away! Teddy or Jim as he was also known, married my mother Audrey who had been abandoned by her then husband DD Stewart in Swindon That's life! Quirky old thing life isn't it? We, i.e. myself Philip and wife Shirley have a large family - just like Dad's in Wake Street. Any info would be most welcome. If you're searching - Good Luck.
Discovered from the 1901 Census that my grand-father as a 19 year old and his family lived at No 41 Wake Street. A family of 9 children altogether. I don't know how they all fitted into those small cottages.
I grew up in this street. number 30, right next to the bombed site of the school. As I was born in 1943, this is the first time I have seen the school, having often wondered what it would have looked like. Thank you for displaying the photo.
Comment by: Tom Walsh on 3rd March 2012 at 11:43
Any time you're Lambeth way any evening any day, you'll find us all all doing the Lambeth walk ,Hoy!
Comment by: JJ on 25th January 2008 at 14:10
I think its frost on the roadway, it looks like it on the pavement too,

JJ
Comment by: john crow on 12th April 2007 at 23:29
This street is Wake street and the building at the far end is lollard street school which was firebombed in the 2nd world war and totally destroyed .Later in the late 50s the site became the 1st adventure playground in the u.k.Sadly nothing remains of Wake st, but i believe Lollard adventure Playground celebrated its 50th year in 2005.