The New Britain Is Not Yet
5 Comments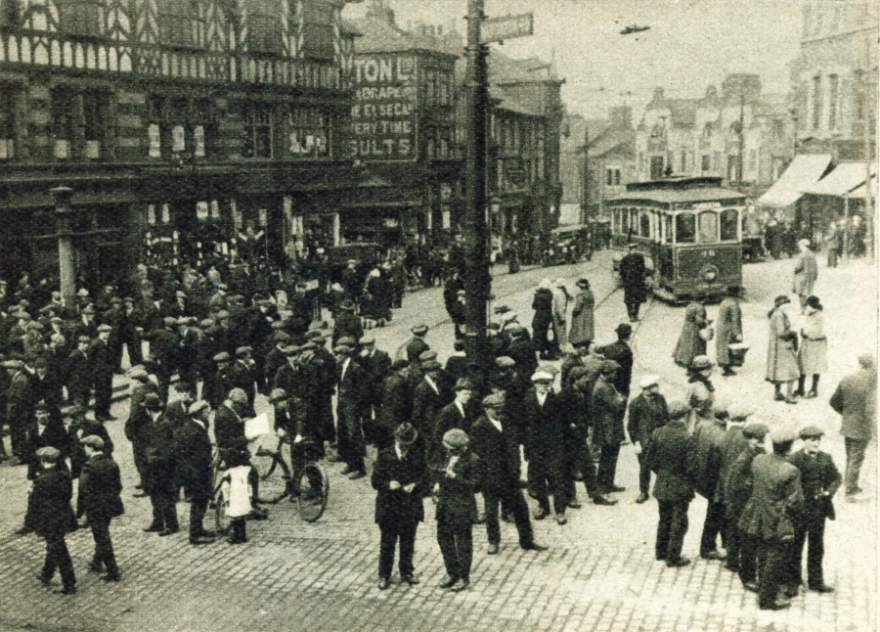 The New Britain Is Not Yet
Year: 1921
Views: 26,158
Item #: 59
Market Place, Wigan - It is peace - but the new Britain that was to come with peace has not yet been born. Industrial troubles culminate in the great coal strike of April, 1921.
Source: Picture Post. November 12, 1938
Re: Tom Sheriffs comments. You could be right about the derailment Tom, but if you look REALLY closely at the lower right corner of the tram you can see what appears to be a piece of track, so I think it had just come over the points and onto another track. Not saying I am right and you are wrong, just wondering! Also there appears to possibly be a wreath on the central light standard, so I wonder if these people are gathering for a remembrance service or funeral? I agree that if it was a 'Union' event there would be banners, Police etc, and many, many more people I suspect!
Comment by: Tom Walsh ,Wigan . on 29th February 2012 at 16:09
Not a single uncovered head. Hat and cap making must have been a good trade to in those days
Comment by: JJ on 21st January 2008 at 20:15
This was the terminus for the tram from standish Im sure they turned here and swung the pole around the other way so the driver moved to what was the rear to drive back to standish the did the opposite at standish

I even remember watching them

JJ
It would appear from a closer study of the photgraph that the tram in the background has come off the rails, and it would suggest that this has attracted a small crowd, as they are not dressed in working clothes this gives the impression of a Saurday afternoon. the absence of police, slogans and union banners suggests that this has nothing to do with a strike or similar protest.

Tom Sheriff
Comment by: Christi on 27th November 2006 at 12:30
What a Great picture! My grandfather was a miner and was living just on the outskirts of Wigan at the time. I love seeing pictures of old Wigan.