Is your name Ainsworth?
If so, you are likely to be descended from a family springing from the village of Ainsworth, between Bolton and Bury, and living there until after the Civil War in the 17th century. A branch of the Ainsworths of Ainsworth acquired estates in Pleasington near Blackburn, when John, a younger son of John de Aynesworth, married Agnes, the daughter and heiress of Adam de Wynckley, Lord of Pleasington. The Ainsworths retained their lands in Pleasington until 1777.
A branch from Pleasington settled at Knuzden, between Blackburn and Oswaldtwistle, George Ainsworth being recorded there in 1524. A John Ainsworth died there in 1607 and another John, possibly his son, was in trouble in 1609 when he was charged with having forcibly possessed himself of the body and estate of Ann, daughter and heiress of Henry Riley of Accrington. John had a son, George, who was nine years of age, and it would appear that he intended a child marriage between the boy and Ann Riley, who also was not of age. Ann's father was dead, but Ainsworth's scheme failed through members of the Riley family bringing the case before the Chancery Court. The Ainsworths of Knuzden were Royalists and George Ainsworth, having been described as a delinquent, had his estates sequestered.
Two notable members of the Ainsworth family of Pleasington were Henry (1571-1622), who was a Hewbrew scholar and theologian, and Robert (1660-1743), who compiled a Latin Dictionary.
The famous writer, William Harrison Ainsworth, author of "Lancashire Witches", "Old St Pauls" and many other historical novels, son of a Manchester solicitor, was descended from the Tottington Ainsworths, who were directly connected with the original Ainsworth village stock. An ancestor of the novelist was Jeremy Ainsworth, steward to the Chethams of Turton Tower, and whose son Thomas was a well known sculptor and engraver.
Source: Lancashire Life Magazine, July 1958.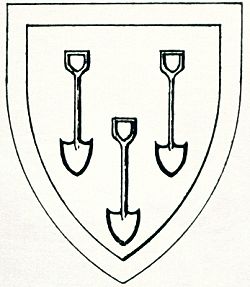 Arms of Ainsworth - Azure three spades argent within a bordure or, that is Blue with three silver spades within a gold border.
---