Is your name Birtwistle?
If so, your ancestors may have originated in North-east Lancashire, where the family was established early in the 13th century. The Birtwistles, or Birtwisles, derived their name from a homestead and lands of the same name in Hapton, near Burnley.
In 1209, Raynor de Birtwisle, son of Ralph, held 30 oxgangs, and in 1253 John, son of Raynor, claimed the land from Henry de Lacy, Earl of Lincoln.
In 1318, William, son of John de Birtwistle, exhanged lands in Bradley, Hapton, for lands in Huncoat, now a district of Accrington, and here the Birtwistles remained for 400 years. In succession followed Richard, 1330, Thomas, 1382, and William, who attested a Dunkenhalgh deed in 1412. From the family, the Accrington branch of the Birtwistle descended and they became fairly numerous in the district. In 1425, Richard de Birtwistle was head of the family at Huncoat Hall, and he was eventually succeeded by his grandson, Oliver, who was a Juror at the Halmot Court for about 10 years and in 1504 was Greave. The Halmot met twice yearly to appoint officers, the Greave being the chief official.
Oliver had a brother whose son John was constable of Huncoat in 1551. Oliver died in 1507 and his son Richard was soon in financial difficulties. He was before the court for debt on three occasions between 1520 and 1524 and finally hade to make a surrender of Huncoat Hall and some of his lands to relatives by marriage. His son Oliver was a more prudent type, and having restored the family fortunes, he entered his pedigree and obtained a Grant of Arms at the Herald's Visitation of Lancashire in 1567. He died in 1587 and his son James, who had married the heiress of Ormerod of Gambleside was succeeded in turn by his son John Birtwistle and, in 1617, by his grandson Thomas, aged 19.
The Birtwistles were strong adherents to the Roman Catholic faith and several members of the family were sent abroad to be educated. Oliver Birtwistle was at Douay in 1575, and in 1599 the President of Douay College was Thomas Worthington, brother of Dorothy, the wife of John Birtwistle of Huncoat Hall. It is not surprising that the Hall possessed a secret hiding place where priests were hidden during the period of persecution of the Roman Catholics.
Thomas Birtwistle had his estate sequestered for recusancy at the time of the Commonwealth government, and in 1653 he was destitute. Once more the fortunes of the family were retrieved and in 1664 he entered his pedigree at the Visitation of the Heralds. In 1681, Edward Birtwistle entered Douay College and was Doctor of Divinity in 1694.
In the 18th century John Birtwistle and his son Joseph were in possession of Huncoat Hall and were followed by John, who was married in 1694 to Mary Whittaker of Burnley, and John sold the estates in 1744 and terminated the association of the family with Huncoat Hall.
In the 16th century branches of the family from Huncoat settled in Rossendale, and were found at Loveclough, Goodshaw, Gambleside and Deadwenclough.
Source: Lancashire Life Magazine, August 1958.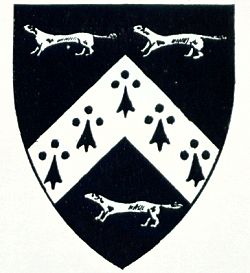 Arms of Birtwistle - Sable a chevron ermine between three weasels argent. A good example of heraldic punning.
---