Is your name Bradshaw?
If so, you may be a member of a family who were settled at Bradshaw near Bolton in Saxon times, and who, after the Norman Conquest, were allowed to retain their homestead. The Bradshaws were connected with some of the best-known families in Lancashire, and they acquired the manors of Sutton, Rainhill, Whiston, Haigh, Blackrod and West Leigh through the marriage of Sir William Bradshaw and Mabel, daughter of Hugh Norris. There is a story that Mabel had to walk barefoot each week from Haigh to Wigan as a punishment for her sin marrying again in the absence of her husband, who she believed to have been killed. After the restoration of Charles II, Sir Roger Bradshaw, Bart. commanded the militia in Lancashire and acted as deputy lieutenant under the Earl of Derby. He was succeeded by his son Sir Roger who died in 1687, and his son, another Roger, became the third baronet, who died childless. The estate finally passed through marriage to the Earl of Balcarres. This branch of the Bradshaws had been in existence for twenty-five generations, and provided sheriffs on four occasions.
Another branch of the family purchased Marple Hall in Cheshire, and in 1602 John Bradshaw was born there. He was educated at Middleton, and later became a bencher of Gray's Inn. He came into prominence as President of the High Court who tried Charles I. For his services, he was handsomely rewarded in money and property, and made Chancellor of the Duchy of Lancaster. He died in 1659.
Source: Lancashire Life Magazine, November 1956.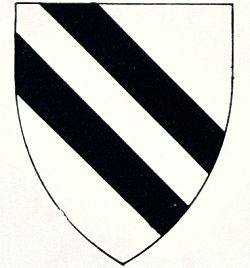 The arms of Bradshaw of Bradshaw were: Argent two bendlets sable.
---