Is your name Dearden?
If so, you may be related to a family living in Rochdale in the 16th century. Tradition says that the Deardens, or Deurdens, came from Accrington in the middle of the fifteenth century and certainly the name is to be found there in more recent times. A James Deurden, who died at Stoneyheys in Wardleworth in 1579, left 2 shillings to Robert Deurden and 12 pence to Margaret Deurden. Among the items left to his wife Isabel were "a pair of lomes with cards and combs and a backstone".
Three Deurdens, Thomas, James and Charles have been recorded in the early parish registers of Rochdale as having their children baptised and Thomas Deurden, Clerk, was buried at Rochdale in 1622.
In 1610, Richard Dearden, of Whitfield, acquired lands at Shore Moor from John Holt of Stubley, and there he built a house called "Warcok Hill", later known as Handle Hall. He married Isobella ... and was buried ar Rochdale in 1630. His brother James had lands at Bottomley. Richard was succeeded by his son James, of Whitfield and Handle Hall, who married Jane Newall, of Town House, and died 1672. They had a family of five sons and two daughters. Charles, the second son, lived at Swainrod, and had a son, John.
The eldest son, John, was born in 1655, and married Jane, the daughter of Richard Ingham, of Cleggswood. Their eldest son, James, was married twice and had a family of five sons and a daughter. The eldest son was John and the youngest was Simon, an attorney of Rochdale. His children died young, and on his death in 1795 his house, "The Orchard" in Falinge, became the property of James Dearden of Handle Hall, who was the son of Simon's nephew James, who had died four years previously.
About this time there was another Simon Dearden, who married a daughter of James Clegg, of Little Clegg. This family lived at Marled Earth. There was also a John Dearden of Hades, who married another daughter of James Clegg.
James, of Handle Hall and the Orchard, was born in 1774. He purchased the manorial rights of Rochdale from Lord Byron and married a daughter of Thomas Ferrand of Thornhill, in Yorkshire, and was succeeded by his eldest son James, born in 1798 and a barrister-at-law. James Dearden married Jane, daughter of Rev William Griffith, M.A., Rector of Llanwrog, Caernarvon. With the purchase of the manorial rights, the family acquired the Trinity Chapel in Rochdale Parish Church, and in 1847 Mr Dearden placed there effigies of a Bishop and a Knight, together with a new screen carved with armorial bearings, purporting to be those of his ancestors.
Source: Lancashire Life Magazine, January 1958.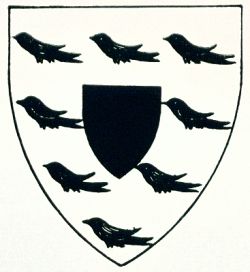 Arms of Dearden - Argent an inescutheon within an orle of martlets sable.
---