Is your name Entwistle?
If so, your ancestors may have lived in the township of that name in the thirteenth century. In 1212 William Radcliffe gave one quarter of the Manor of Edgeworth to Robert de Entwistle when he married William's daughter. In 1276 Ellis, son of Richard Entwistle defended his title to twenty acres of wood in Edgeworth and he is mentioned again in 1292. Henry de Entwistle and Maud his wife were living in 1300 and in 1329 the Prior of the Hospitallers claimed service from John de Entwistle for a messuage and forty acres of land in Turton. John contributed to the subsidy in 1332 and was tenant of one-third of the manor in 1346. He appears to have been succeeded by Ellis Entwistle who had a son Ellis, mentioned on several occasions between 1394 and 1410.
In 1420, John Entwistle and his wife Margaret had lands in Withington and Chorlton for which Ellis Entwistle was one of the trustees. John died in 1436 and his widow claimed dower in 1444 on lands in Turton, Entwistle and Bolton against Elizabeth, widow of Anian de Entwistle who had died two years earlier holding one quarter of the manor of Edgeworth, the manor of Entwistle and lands in Turton and Bolton. Anian was succeeded by his son Ellis who was twenty-three years of age.
Sir Bertin Entwistle is said to have been a member of this family. He fought at Agincourt, and was killed fighting for the Lancastrian cause, at the first battle of St. Albans in 1455.
In 1544, Edmund Entwistle died holding the Manor of Entwistle and lands in Edgeworth, Turton, Bolton and Manchester which descended to his son George who sold some of the estate to the Tyldesley family.
Another family of Entwistles were settled at Foxholes in the Parish of Rochdale. It is conjectured that they were a branch of the Entwistles of Entwistle. An early member of this family was Edmund, living in 1523. His son Richard of Foxholes died in 1573 and left his eldest son Richard "two great garnars in the barne, one plowe ... and a little Bible" which was to be "occupied (used) everie Sabaothe daie when there ys no sermons nor sacraments in ministringe".
Another son Abel founded a branch of the family at Middleton and was living in 1611. Richard died in 1621 and was followed by another Richard, who was fined £10 for refusing a knighthood. His son John was Recorder of Liverpool and a barrister of the Middle Temple. He recorded the family pedigree in 1665 and married Dorothy, daughter of Robert Holt of Stubley and Castleton. His eldest son Richard succeeded, another son Bertin was Vice-Chancellor of the Duchy of Lancaster and Edmund was Dean of Chester.
Source: Lancashire Life Magazine, August 1959.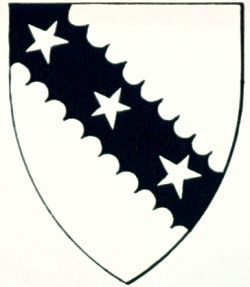 Arms of Entwistle of Foxholes - Argent on a bend engrailed sable three mullets of the field. The silver background is crossed by a black diagonal band on which are three silver stars.
---