Is your name Farington?
If so, you may be descended from a family living in Leyland in the fourteenth century. About the year 1242 a part of the Manor of Leyland came to a daughter of Robert Bussel named Avice who married John de Meols. Their son William was the father of William de Farington who held one-tenth of a knights fee in Leyland in 1355.
In 1353 John son of Robert de Farington held lands of the Priory of Lancaster and in 1368, John, Duke of Lancaster, demised to William Farington and John his brother a moiety of the Manor of Leyland for thirty-five years. From John Farington descended the Faringtons of Little Farington through marriage with the heiress of Howarth of Little Farington. This family ended in Queen Elizabeth's time when Peter Farington had five daughters.
William Farington who succeeded to Farington and Layeland died in 1456 leaving a son William who was a knight in the Scottish wars and died in 1501. William Farington had a brother Charles from whom sprang the Faringtons of Hutton Grange, Ribbleton. This family held their lands until 1672 when they were sold to the Heskeths of Rufford.
Another son of the main line, Henry Farington married the heiress of Lingard, Garstang, in 1461 and a family of Faringtons were established there and recorded their pedigree in 1567.
Sir William Farington who died in 1501 was succeeded by his son Henry who married firstly Anne Radcliffe of Ordsall and secondly Dorothy Okeover of Staffordshire.
In 1534 Henry Farington had acquired Worden which had been granted originally to the Knights of St. John of Jerusalem by Roger de Lacy and this passed on his death to his son William Farington, who was a magistrate in the time of Queen Elizabeth and Steward of the Household to the Earl of Derby. His grandson William succeeded and purchased the manor of Leyland in 1617. He was Sheriff of Lancashire in 1636 and as a Royalist was one of the defenders of Lathom House in 1644. As a consequence his name was removed from the magistrates roll and his estates sequestered. He died in 1658 and was followed by his son William also a Royalist sufferer. Three generations later William Farington was Sheriff in 1714. On his death his cousin William Farington of Shaw Hall succeeded to Worden and his brother Valentine inherited the manor of Cottom from their father George.
William had a grandson William who was Sheriff in 1761 and whose brother Bradshaw Farington was killed at the battle of Fontenoy in 1745.
Source: Lancashire Life Magazine, October 1959.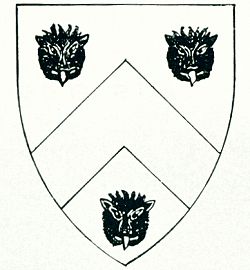 Arms of Farington - Argent a chevron gules (red) between three leopards faces sable. The old arms were gules, three cinque foils pierced argent.
---