Is your name Gerard?
If so, you may be descended from a family living in south Lancashire in the 11th century. William Gerard of Bryn, in Ashton-in-Makerfield, born in 1259, married the heiress of Peter de Bryn, and had three sons, Thomas, Peter and John. Thomas had a son and a grandson both named Thomas, and all three were knighted. The last Thomas died without issue, and his estate of Bryn passed to heirs of Peter, the second son of Peter de Bryn. John the third son married the heiress of Richard de Ince, and thus acquired an estate and founded the family of Gerard of Ince.
In the reign of Henry VIII, James Gerard of Ince had two sons William, who loved at Ince and Gilbert, who became a Sergeant-at-Law during the reign of Philip and Mary and was knighted by Queen Elizabeth. He became Attorney-General and later Master of the Rolls. He married Anne, daughter of William Radcliffe of Winmarleigh, and from his eldest son Thomas, descended the Lords Gerard of Bromley and from the younger son Radcliffe, the Lord Gerrard of Brandon Earl of Macclesfield. Gilbert, whilst attorney-general, acquired the estate of Bromley in Staffordshire from his relative Sir Thomas Gerard of Bryn, who had been imprisoned, charged with plotting to free the captive Mary, Queen of Scots. This Sir Thomas was father of Thomas created a Baronet by James I.
The last of the family of Ince sold Ince Hall to Colonel Richard Gerard grandson of Sir Thomas Gerard of Bryn after the restoration of Charles II. Colonel Gerard was a distinguished Royalist and raised a regiment of foot for the service of the Queen of Charles I.
During the Civil Wars, eight members of the family were ardent Royalists, most of them Colonels, and several lost their lives.
Source: Lancashire Life Magazine, February 1957.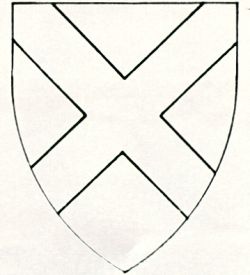 The arms of Gerard of Bryn were: Argent with a saltire gules (a red cross formed like the letter X on a silver background).
---