Is your name Greene?
If so, you may be related to a family established in Lunesdale in mediaeval times. In 1346 William del Greene is recorded as paying a share of 3s. 8d. rent for one plough land at Gressingham and in the same year Thomas del Greene received a pardon. In 1352 Matthew del Greene complained that Adam de Southworth had taken his cattle at Eskrigg, whilst in 1381 William del Greene of Kellet was defendant in a case mentioned on old records. In 1441 Thomas del Greene claimed that James Thornton and others had damaged his pastures.
In 1479 William del Greene granted the Manor of Gressingham to his brother John. William died in 1499 and Elizabeth, John's daughter, who was 10 years of age, inherited the estate.
The Greenes or Greens were found in a number of townships in the Hundred of Lonsdale. At Overton, Robert Greene is recorded as paying 2 shillings for 2 ox-gangs of land, and Gervase de Green paid 20 pence for the tenancy of land at Ashton where later, in 1631, John Greene had to pay £10 for refusing a knighthood and his kinsman Robert of Arkholme was similarlt treated.
The family were also at Middleton, for Robert Greene and his wife Dorothy are mentioned in connection with the sale of Middleton Manor in 1650.
The Greenes were apparently Royalists and in consequence had to pay the penalty for their loyalty. William Greene of Torrisholme lost all his estates by sequestration and Richard of Cleveley had two thirds of his estate sequestered for recusancy.
Members of the family also served the Church, for in 1485 Nicholas Greene was priest of the Almshouse attached to Lancaster Church, a position he was still holding in 1500. In 1488, Edmund Green was Rector of Melling and later Prior of Hornby. William Greene was Vicar of Lancaster 1525-1540. He was also Rector of Kettering and Prebendary of St. Paul's from 1534 to his death. Thomas del Greene was Rector of Whittington from 1401 to 1417.
From the time of James I, the Green family have been connected with Slyne, and in 1795 the Chapel of Aldingham was rebuilt by Thomas Greene of Slyne. The manor was sold by the Crown in 1816 abd Thomas Greene became Lord of the Manor.
Source: Lancashire Life Magazine, September 1957.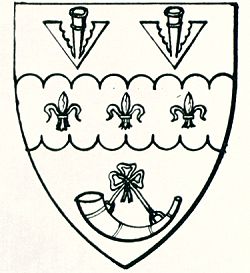 The arms of Greene of Whittington - Vert on a Fesse invected, or between in chief 2 pheons and in base a bugle-horn argent stringed gules, three fleur-de-lis of the last.
---