Is your name Lea?
If so you may claim relationship with a family living in south-west Lancashire in the 12th century. Between 1189 and 1194 Henry, son of Warin de Lea was granted Raven Meols near Formby and shortly afterwards he presented a portion of the estate to Cockersand Abbey.
The Lea or Lee family who were known as Lords of Raven Meols also became interested in Litherland when Henry de Lea acquired a fourth part of the manor. In 1280, Sir Henry de Lea granted land to Richard de Litherland and Henry son of Henry de Lea is mentioned in connection with land named Pikemanscroft. In 1305 he claimed lands from Richard de Ince and as a result of land deals, litigation followed, for in 1350 William son of Sir William de Lea brought an action against Richard Molyneaux of Sefton concerning lands in Litherland. He was evidently successful, for in 1372 William and his wife Isola still held a fourth part of the manor.
In 1307, Henry de Lea, a son of Henry, clerk of Litherland, was Rector of Halsall, an appointment he was holding in 1333, when he witnessed a Charter relating to Litherland.
In the 15th century, William de Lee owned a portion of the Manor of Formby where his ancestors William and Nicholas his son, had formerly owned 3 oxgangs. The family also spread to Orrell, Croston and Maghull, where Richard de Lee and his uncle Robert de Lee are mentioned in 1472. A hundred years later a descendant, another Richard, purchased land in Much Hoole from the Bold family. Yet another branch of the family lived at Rainhill, where in 1320, Roger, a son of William de Lee granted to William his son, his rights in lands there. These were passed on through John to Henry Lee and his son Richard who in 1424 sold his Rainhill lands to Henry Blundell of Little Crosby.
Source: Lancashire Life Magazine, August 1957.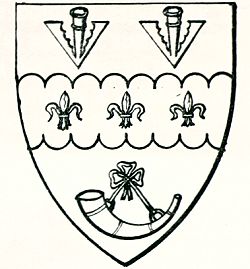 Arms of Lea - Sable three bars argent.
---