Is your name Livesey?
If so, you may be related to a family who lived near Blackburn at the beginning of the 13th century. In the time of King John, Adam de Bury held Livesey and was succeeded by a son, William, who adopted the name of Livesey and was a juror at Lancaster in 1246. His son Henry gave lands to Stanlaw Abbey and is mentioned as appearing at Lancaster Assizes with his son William in 1292. In 1336 the Manor of Livesey was settled by William on his son Henry de Livesey when he married Cicely de Sutton. John de Livesey followed in succession and died about 1389 when John, Duke of Lancaster, granted the wardship of his son John de Livesey to Richard Hoghton and Richard Whalley. Geoffrey succeeded and together with Hugh and James Livesey was the subject of legal proceedings instituted by Robert Shireburn in 1469 at Lancaster.
The Livesey family was in trouble again in 1483, when Peter Worthington indicted for assault, Geoffrey and Robert of Livesey, John of Nether Darwen, Oliver of Blackburn, and fourteen other Liveseys. It appears that Richard, son of Peter Worthington, and others had been indicted the previous year by John de Livesey in connection with the death of Adam, his brother and heir, and probably the assault was connected with this event. John succeeded Geoffrey and died about 1504, when his son Giles inherited the estate. He married Alice, daughter of John Talbot, of Samlesbury, in 1494, and died in 1521, his son James being 19 years of age. James married Alice Rishton of Ponthalgh and had a son, Richard, who contributed to the national fund for defence against the Armada in 1588. On his death at Samlesbury in 1591, his grandson, James, inherited his estates, together with those of his father, John, who had married Jennet, the coheir of John Isherwood of Pleasington, and acquired lands in Turton, Great Lever, Pleasington, Wheelton and Chaigley. James recorded his pedigree in 1613 and died childless in 1619. The Manor passed to Ralph, younger son of John Livesey of South Wykeham, Lincs., a brother of James Livesey of Livesey. Another Ralph followed and was governor of Blackburn Grammar School for many years.
Another branch of the Livesey family was found at Sidebight in Rishton, and descended from Thomas, brother of Giles, and a son of John Livesey who died about 1504. A further branch were the Liveseys of Sutton.
Source: Lancashire Life Magazine, September 1958.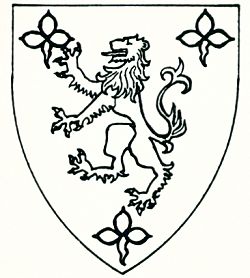 Arms of Livesey - Argent a lion rampant gules between three trefoils vert.
---