Is your name Pilkington?
If so, you may be descended from a family living in the 12th century in a township of that name between Bury and Manchester. The Pilkingtons held three estates from the Grelleys, Barons of Manchester, and one of the duties to be performed in service was to act as a judge of the Manchester court. Alexander Pilkington, William his brother, and Alice their sister, appear in 1202 in connection with the settlement of lands in Rivington and Worsthorne. Alexander held the manors of Pilkington and Rivington in 1231, and had a son Roger who attested an early charter to Stanlaw Abbey. He was followed by another Alexander, who married the heiress of Sir Geoffrey Chetham. His son Roger held the manors of Pilkington, Whitefield, Unsworth, Crompton, Sholver and Wolstenholme, and was evidently a man of considerable fortune. He had a grant of £100 for his services in Gascony, and later took part in the rising of the nobles which led to the surrender of Piers Gaveston, receiving a pardon in 1313. In 1298, Henry, another son of Alexander Pilkington, mortally wounded his kinsman Adam Pilkington in a family quarrel. In 1322, Roger was again in trouble, this time he fought with Thomas of Lancaster against the king at Boroughbridge, and was captured and imprisoned. Paying a fine of £200 for his release, he died shortly afterwards. His son Roger married Alice, heiress of Henry de Bury, and acquired the manor of Bury. Dying in 1347 he was succeeded by his son Roger, who was knighted prior to 1365. He attended John of Gaunt on a French expedition in 1359, and died in 1407. His son, Sir John Pilkington, attended King Henry IV on his Scottish expedition in 1400, and was one of the Lancashire Knights who fought at Agincourt in 1415. He died in 1421, and was succeeded by his son Sir John, who also fought in the French wars and died in 1451. Thomas, grandson of the first Sir John, followed and became a favourite of Edward IV, first of the Yorkist line. He was High Sheriff in 1467 and 1480, and was made a Knight of the Bath in 1475, and was at the capture of Berwick. He fought for Richard III at Bosworth, and on the death of the king, forfeited his estates in Lancashire. He again took up arms on the Yorkist side when Lambert Simnel led a rebellion in 1486, and was defeated at the battle of Stoke in 1487. He was granted a pardon in 1508. Of this family was Dr. James Pilkington, Bishop of Durham, who founded a school at Rivington in Elizabethan times.
The crest of the Pilkingtons borne above the shield was a mower with his scythe. This relates to the story that "the ancestor of the family being sought for at the time of the Norman invasion disguised himself as a mower and so escaped."
Source: Lancashire Life Magazine, May 1957.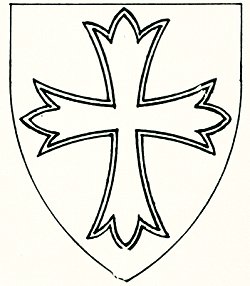 The arms were: Argenta cross potence voided of the field gules. The term voided of the field means that the interior of the red cross is removed leaving an outline, and the field colour, in this instance silver or white, shows through.
---