Is your name Radcliffe?
If so, you may be related to a family whose members have gained distinction beyond the confines of Lancashire.
The Radcliffes had their seat at Radcliffe near Manchester in the twelfth century, and were also established at Ordsall in the same district. At the commencement of the fourteenth century the Manor of Oswaldtwistle came into their possession, and not many years later we find them lords of the manor of Framesdon in Suffolk. Another generation held lands in Clitheroe, and became Earls of Derwentwater, whilst another branch having succeeded to the Barony of Fitzwalter gained further distinction by being created Earls of Sussex in 1529.
Radcliffes were High Sheriff of Lanvashire on a dozen or more occasions, one was a Principal of Brasenose College, Oxford, and the widow of another was a founder of Sidney Sussex College, Cambridge. Another was secretary to the Archbishop of Canterbury, and yet another was Lord High Chamberlain of England.
Source: Lancashire Life Magazine, August 1956.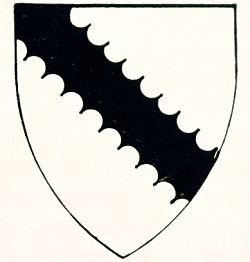 Arms of Radcliffe, Earls of Sussex - Argent a bend engrailed sable. Some branches of the family use two bends.
---