Is your name Rawsthorne?
If so, your ancestor may have been John de Rawsthorne, who claimed land in Bury in 1292 from Richard de Shuttleworth. In 1304 Adam de Rawsthorne had a dispute with his neighbour, Roger de Bury, and together with his son Adam they paid subsidy in 1332. In 1343 John Rawsthorne, grandson of the above John, had to defend a claim against his land by Agnes de Shuttleworth.
In 1482 Lumb Hall, in Edenfield, was the seat of Adam Rawsthorne, who was succeeded by his son Henry in 1508. Henry was followed in 1528 by his son Adam who, with his son Richard, was concerned in a marriage covenant with Richard Ormerod in 1551. In 1562 Adam died and Richard succeeded. On his death, in 1580, he left a widow, Agnes, three sons, Richard, Adam, who was parson of Bireham Newton, Norfolk, and Lawrence, and a daughter, Ellen. When Richard Rawsthorne died in 1593 he left certain furniture and seven silver spoons to remain as heirlooms at the Lumb. His son Edward was a freeholder and contributed to the subsidy in 1622. He died in 1634 and was succeeded by his grandson Edward, born in 1632. His daughter Elizabeth conveyed the estate in marriage about 1660 to Thomas Bradshaw.
Another branch of the family settled in Edenfield when, in 1538, Lawrence Rawsthorne of Old Windsor purchased New Hall. He was a descendant of a Tottington family of Rawsthornes. In 1546 he acquired the Manor of Hutton for £560. Ten years later, in a settlement, he mentions his sons William and Edward, and his daughter Jane. In 1559 he complained that the servants of John Fleetwood, of Penwortham, had destroyed a ditch and flooded his land.
His son Edward, who succeeded, married a daughter of Ditchfield of Ditton and, dying about 1622, was followed by his son Edward, who was Sheriff in 1629. Edward died about 1658 and his son, another Edward, is noted for his staunch defence of Lathom House in 1645, when the Countess of Derby held out against the Parliament forces for a considerable time. He was promoted from Captain to Colonel by Prince Rupert and had his estates sequestered. On his death his brother Lawrence succeeded and claimed the estates as a Parliamentarian. He was Sheriff in 1680.
Another branch of the Rawsthornes lived at Summerseat during the 16th and 17th centuries.
Source: Lancashire Life Magazine, November 1958.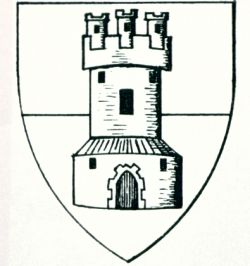 Arms of Rawsthorne - Per fess azure and gules a castle tripled towered or. The shield is divided, the top half being blue and the lower half red. The castle is gold.
---