Is your name Tunstall?
If so, your forefathers may have taken their name from the place where they lived in the Lonsdale district in the 12th century. William de Tunstall, together with his son Thomas, came to an agreement regarding land boundaries with Akarius de Austwick in 1202 and the latter paid 1lb. of pepper as an acknowledgement. Thomas married Maud and their son William granted lands in Tunstall in 1227 to Roger Tunstall, probably his uncle, Roger's wife was also named Maud, and they held land in Wennington. William de Tunstall had a brother, Thomas, and together they witnessed the Fountains Abbey Chartulary. William was succeeded by his son John, who had a claim made against him by the Abbot of Croxton for seven acres of land in Wrayton. John was also in trouble with the Lady of Hornby, Margaret de Nevill, who complained that he shot an arrow at her steward and tried to kill him because he wanted to seize a wagon of corn. In 1292 she demanded, from another member of the family, Adam de Tunstall, her former bailiff at Hornby, an account of the time he spent whilst in her employment. About 1290, Ellis de Tunstall is said to have died on a pilgrimage to Jerusalem.
In 1313, Nicholas, Adam's son had a dispute with John de Hornby, who acquired land from Adam's other son, Robert, seven years later.
John de Tunstall was succeeded in turn by his son John and his grandson William, who was a minor in 1315, but was in possession in 1328 when the Abbot of Croxton claimed a debt of 20 marks. His son, William Tunstall, succeeded and added to his estates the Manors of Over Burrow and Nether Burrow in 1359 and part of Leck in 1370. He was knighted in 1384 and died in 1387. His son, Sir Thomas, was given licence to crenellate his manor of Thurland in 1402, and died in 1415 when his son William was aged twenty-four. William enjoyed his inheritance for a brief period and was succeeded by his brother Thomas, who paid William's widow, Anne, £40 per annum, as dower.
Thomas Tunstall served in the French wars and was knighted in 1426 for his bravery at the Battle of Verneuil. His wife was Eleanor, widow of Sir Philip Darcy. Their son, Sir Richard, was squire to Henry VI in 1446 and attainted in 1461. He was pardoned and restored to his estates, dying in 1492. His son William, who followed, died in 1499, and the estates passed to Thomas, son of Thomas, brother of Sir Richard Tunstall. After Thomas' death in 1503, the succession went to his brother Bryan, who was slain in the Battle of Flodden. His children were in the guardianship of Cuthbert Tunstall their uncle, who was Bishop of Durham 1530-1559.
Marmaduke Tunstall was knighted in 1553 and followed by his son Francis in 1557. He purchased the Manor of Garneygarth and died in 1587. His son Francis Tunstall sold Thurland and other manors to the Girlington family in 1605. The descendants of junior branches of the Tunstall family continued to live in the district and have now spread further afield.
Source: Lancashire Life Magazine, December 1958.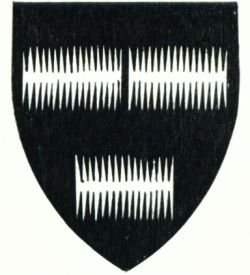 Arms of Tunstall - Sable three combs argent.
---