Advert Museum
Advert Museum
Palm Toffee
5 Comments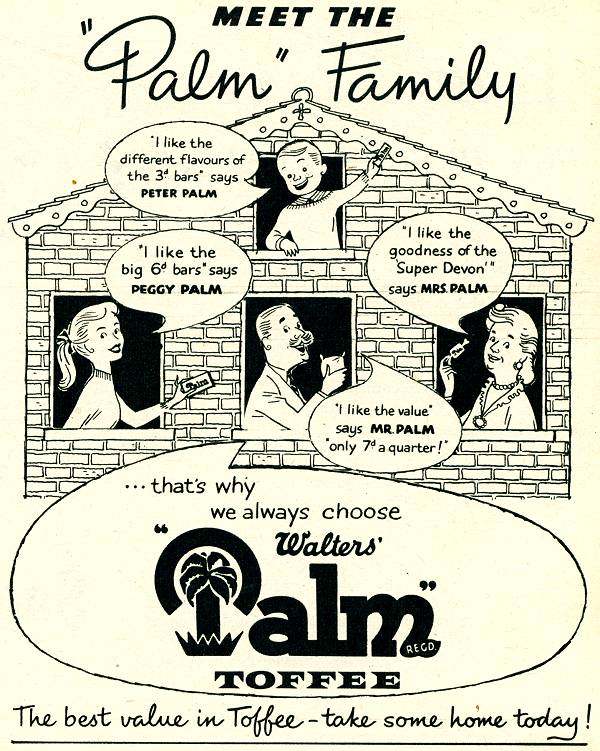 Palm Toffee
Year: 1955
Views: 13,329
Item #: 1021
Meet the "Palm" Family - "I like the different flavours of the 3d bars" says Peter Palm. "I like the goodness of the 'Super Devon'" says Mrs Palm. "I like the big 6d bars" says Peggy Palm...
Source: Picture Post. February 5, 1955
My mother in law worked in the factory amongst fumes of the boiling sugar and she lost all her teeth through sugar decay!
I went to Raines Foundation Grammar School, Stepney 1954 - 1958.We used to walk from Arbour Sq.to Limehouse saving the bus fare and calling in on Palm Toffee's distribution place almost opposite Rotherithe Tunnel. If we were lucky we would be given a bar of Palm Toffee. Happy days indeed.
Comment by: Chris W. on 5th April 2016 at 14:26
I think you can understand when I say that I thought it was Talm toffee ! Absolutely lovely though - a rose by any other name....
When I was a kid I thought you got Palm Toffee as a special treat on Palm Sunday............. so today is the day !!
Comment by: Terry Jones on 5th May 2010 at 15:06
Ahhh. Palm toffee was always my favourite. I am amazed I still have any teeth left.