Advert Museum
Advert Museum
Baume & Co. Ltd
2 Comments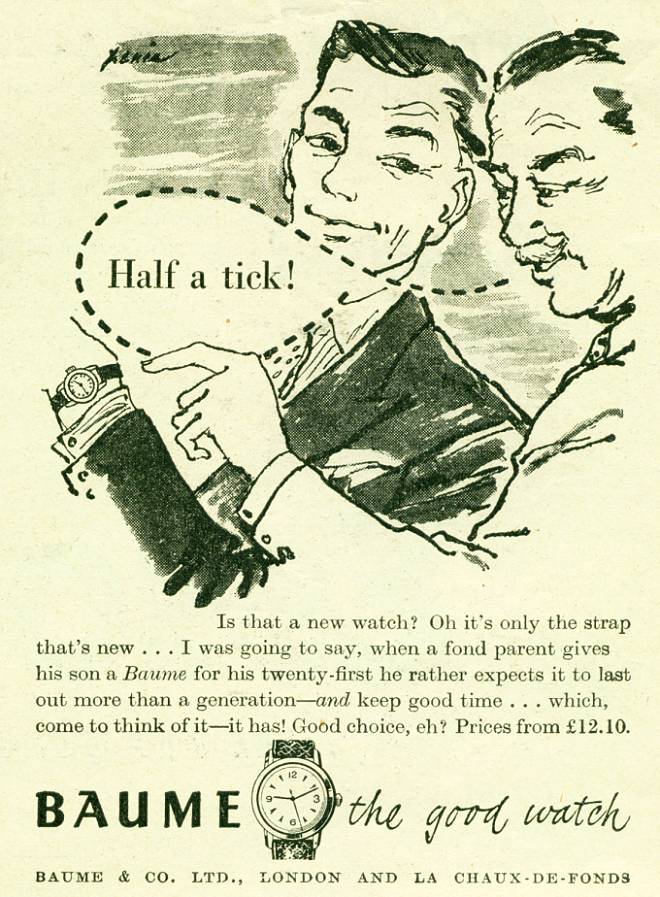 Baume & Co. Ltd
Year: 1954
Views: 8,047
Item #: 1484
Half a tick! Is that a new watch? Oh it's only the strap that's new... I was going to say, when a fond parent gives his son a Baume for his twenty-first he rather expects it to last out more than a generation...
Source: Punch. July 21, 1954.
Comment by: Harry Forder on 20th March 2014 at 20:50
I have a 40+years old Baume date watch, just serviced and still in use, and I've often wondered what happened to Baume & Co. Ltd. They were in Hatton Garden and Clerkenwell and I think in Coventry also. Do you know anything about them?
Comment by: Tom on 8th April 2013 at 22:33
Quite pleased to find this - I have the model of the watch depicted. It's stainless steel, with an AS (A Schild) 1187 17 jewels manual wind movement.