Advert Museum
Advert Museum
Merrols Butterscotch Bon-Bons
5 Comments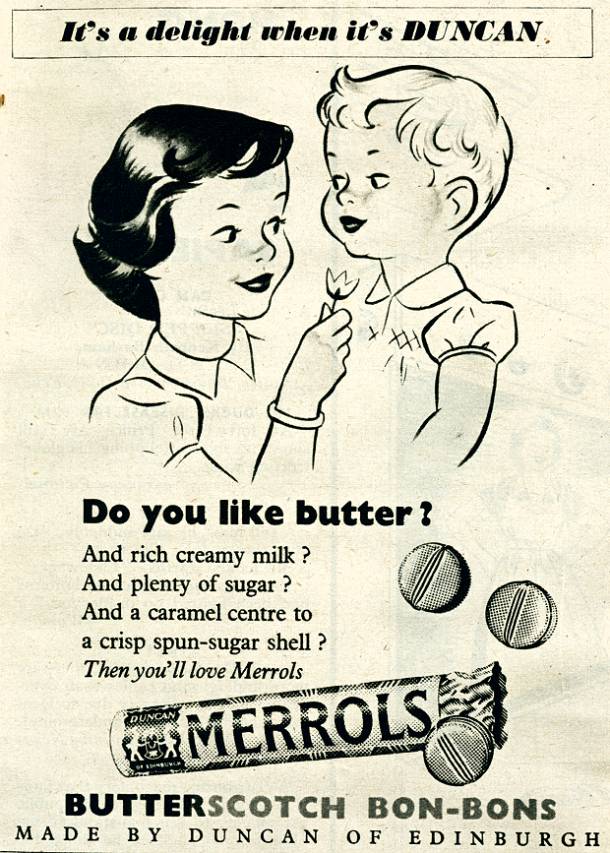 Merrols Butterscotch Bon-Bons
Year: 1954
Views: 11,136
Item #: 483
It's a delight when it's Duncan - Do you like butter? And rich creamy milk? And plenty of sugar? And a caramel centre to a crisp spun-sugar shell? Then you'll love Merrols.
Source: Picture Post. November 27, 1954
I too was very fond of merrols as a boy in Leith. At the time of the queen's coronation in 1953 all the kids in my school, Hermitage Park P.S. received a coronation mug with a tube of these tasty sweets. Happy days.
Comment by: Kate on 24th June 2016 at 19:46
Remember these sweets from the mid fifties. They were delicious. Can still smell them and even almost taste them. Didn't realise they were made by Duncan's who also made lovely hazelnut chocolate.
Comment by: edna on 6th December 2015 at 22:59
I miss these too. There is a peppermint flavoured one from Merrols and I hoped that one day I would see the butterscotch back in the shops but sadly not.
Hello
I adored Merrols as a little girl and was so sad and surprised when they disappeared! Today have discovered all about them and can still taste them - and still miss the taste of them!
Ruth Evans
Comment by: Anne Birrell on 11th January 2014 at 17:40
I've been looking online for years for a mention of these boiled sweets, they were delicious. I suppose the nearest equivalent would be something like a soft-centred Werther's Original.
Thank you, you've made an old lady very happy today !