Advert Museum
Advert Museum
Senior Service
15 Comments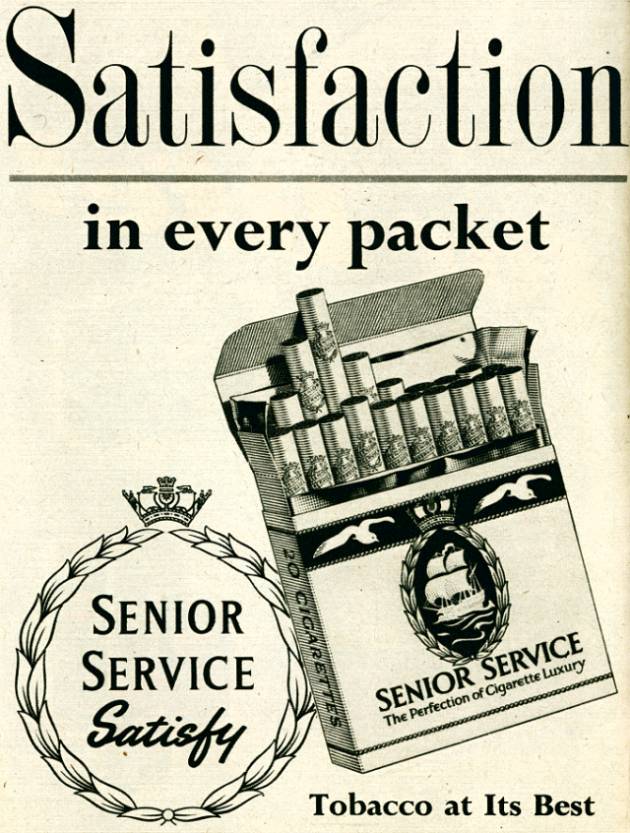 Senior Service
Year: 1954
Views: 16,837
Item #: 493
Satisfaction in every packet - Senior Service Satisfy - Tobacco at its best.
Source: Picture Post. September 25, 1954
I've been looking into my family tree after being told the Pattreiouexs were distant relatives. Is anyone able to tell me which Joseph Pattreiouex married Elizabeth Woolham in 1862? Was this the Joseph that founded the company? Thank you.
Hi, My Grandfather was in the Senior Service Band.
What I would like to know did each factory have their own or did the band represent the whole company?
My Mother had professional pictures of the band
My Dad started his first job at 14 in the Manchester factory. Starting at the same time was a chap called Bernard who could sing beautifully. He soon left to take up a career in singing and comedy. He became the infamous Bernard Manning. My Dad continued working for the company when Gallaghers took them over and worked at their factory in Hyde, then in their factory in Middleton.
Peter, how exactly are you related to the Pattreiouex family? James Pattreiouex whose sons started the tobacco company was my husband's great-great-grandfather.
Comment by: Peter Threlfall on 26th December 2016 at 21:32
I am distantly related to the Pattreiouex family. My Great Grandfather was George Parkinson who was born in Salford, in the 1870's, and settled in Birkenhead between 1891-1896. He had married Mrs LiLilly Simons and they had a number of children; George Albert Parkinson, Joseph Parkinson, Mary Parkinson, John Parkinson, Louise Parkinson (my Grandmother), and Frank Parkinson. During the Great War the Pattreiouex's used to send my Great Grandparents a cheque every week/month, and used to send my two Great Uncles; George Albert and Joseph, tobacco when they were serving in the army in France/Belgium.
Comment by: billy shears on 25th October 2016 at 15:10
My uncle solly used to smoke these non-stop; of course, all the men in my family smoked in the 1950s. Solly died after an excruciating drawn out illness from lung cancer in 1975.
Louisa was our great grandmother. Our grandma was her daughter,Eva.Her daughter,Lily was our mother. We would love to find out more about Louisa's ancestry .Our youngest sister was named after Louisa.
My late father Alexander Bennett did the Man & Dog Security contract for twenty years, and he received a very nice letter, which was sent to him, from Mr P Manning Development Manager of Senior Service to say there was not a single breach of security ever occurred in that period. This was one of the many important companies my father safeguarded, and also had contract overseas, and he ran the Stamford arms in Little Bollington Cheshire at the same time, and had other crucial businesses too, running from the vast premises, which gave the customers great pleasure, and the local people much needed employment. He also was an only child, and fought in the WW2 and served in the RAVC.
Comment by: Ritchie B. on 23rd July 2013 at 18:53
Senior Service cigarettes, Benson & Hedges, (Slim Panatellas??), (Players No.6??) and many others were manufactured by "J. A. Pattreiouex (Senior Service), Manchester." The name Pattreiouex was a corruption of the French name Patrieux. The factory at the very beginning of the 1950s was in the "Cedar Mill" on Cedar Street, in Ashton-under-Lyne - and this mill was still extant up until early this century, before being demolished and replaced by new housing. In 1958 J. A. Pattreiouex (Senior Service) moved to a newly-purchased mill on Gregory Street, off Ashton Road, in the Newton District of Hyde (also in Tameside .... though in the 50s, Ashton would've been in Lancashire and nearby Hyde would've been in Cheshire).
This mill, likewise, was demolished in the beginning of the 2010s to make way for new housing.
The company DID become Gallaher Tobacco and had substantial holdings in Ulster. Most recently, this century, it is the property of Japanese tobacco conglomerate JTI plc. It's administrative HQ is on the historic Brooklands Racing Circuit, near Weybridge in Surrey and the company's magazine is called "Smoke Signals."
I'm interested in the family connection, Neville. What is your descent from Louisa?
Comment by: Neville on 7th December 2010 at 11:17
My great grandmother was Louisa, born 1850, who married William Henry Woodyatt at Manchester Cathedral 1868. The tobacco company was started making cigars at 19 Shudehill, probably by either her brother or nephew. It was relocated to Derby Street, Cheetham Hill, producing cigarettes and adopting the brand name Senior Service. They were considered to be superior to other brands and cost more money in the mid-20th century. I would be very happy for additions or corrections to this sketchy history.
Comment by: Lois on 20th August 2010 at 22:35
The tobacco company was started in Cheetham Hill, Manchester, in the latter part of the 1800s by Joseph Allen Pattreiouex and did indeed produce Senior Service. The family name Pattreiouex, a corruption of the original Patrieux. Joseph's father, James is listed on the 1851 census as being born a British subject in Belgium in 1811. He was my husband's great-great grandfather.
I have a packet of senior service 100s ,opened but full.
Any info would be welcomed as want to sell.
Records from the Wesleyan Methodist Cemetery at Cheetham Hill, Manchester. (Opened in 1834 and closed for any further burials in 1966) show:
J. Allen Pattreiouex, d. 1 Jan 1936, age: 56 yrs, h/o Lilian Pattreiouex, [LL]
Pattreiouex, Lilian, d. 11 Jun 1926, age: 45 yrs, w/o J.Allen Pattreiouex.

I understand the name 'Senior Service' was decided upon whilst Robert (sic?) Allen Pattreiouex was dining at a private Manchester luncheon club' some time around or after 1926. If you have any further information, I would be pleased to hear.
Roy
I have a tin of 50 Senior Service solder sealed with its own top opener. Made by J A PATTREIOEX Ltd Manchester. Has anyone ideas of year of manufacture or any infomation about this company. I believe that Senior service was produced by Gallagers after a ceetain time, so who is this company from manchester??